This time of year we reflect on the things that make us feel gratitude. I'm so grateful that for over two decades—nearly three—people all over Washington have supported our work on behalf of bicycling through dues, donations, and Share the Road license plate purchases. As a result more kids are riding bikes, more streets have bike facilities, and more towns promote bicycling to improve health and quality of life for everyone while supporting Main-Street jobs.
American stories about Thanksgiving reflect on history as well. In our earliest days we were the Northwest Bicycle Federation (NOW Bike), the Bicycle Federation of Washington joined us, then we became the Bicycle Alliance.
Our programs have changed over the years along with our name, but our mission of growing bicycling statewide has never wavered. Our work has always had the same vision: A future in which more and more of Washington bikes.
And now Washington Bikes is our name as well as our goal. Advocacy organizations like ours around the country are choosing new names that tell you their reason for being as they outgrow names that simply label an organizational structure. We're making that same strong declaration of identity for the entire state of Washington. 
Washington Bikes: The Jersey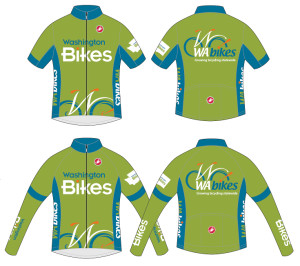 Our new name just happens to look fantastic on the front of the Castelli jerseys we now offer for purchase online. Members receive a 10% discount on all purchases.
Non-members can join now to get the discount and pay their tax-deductible dues (with a special holiday rate) via the jersey order form, so send this page to your friends who appreciate what bicycling does for them, for your town, and for all of Washington.
Made in Spokane, the women's and men's jerseys are available in either short-sleeve or long-sleeve versions. All proceeds benefit our work in advocacy, education, and community engagement around the state, and you'll be telling the world that Washington Bikes every time you wear yours.
Shopping for a Cause: AmazonSmile
One more way you can support our work with a click or two—if you're shopping online with Amazon go to AmazonSmile.  Enter Bicycle Alliance of Washington in the box labeled "pick your own charitable organization" (we're working on our name change there), then click Select next to that name on the list.
That's it! Now Amazon will donate 0.5% of the price of your eligible purchases to us. Nothing changes about your online shopping except the site you start from. Remember to start from smile.amazon.com every time instead of amazon.com so you're doing good when you shop.
Once you've identified us as your charity of choice that information stays in your account unless you change it in your account settings, which you can do at any time.
For more information and news about bike happenings all around Washington, visit WAbikes.org, follow us on Twitter at @WAbikes, check out our Pinterest board, and YouTube channel, and follow our Facebook page.
Happy pedaling and happy Thanksgiving!