It's time to GiveBIG! Bicyclists in our state have a lot of victories to celebrate with this spring's passage of the Neighborhood Safe Streets bill to be signed into law by Governor Inslee on May 16, not to mention Washington's recent #1 ranking by the League of American Bicyclists as most bicycle-friendly state in the nation for the sixth consecutive year. Legislative wins, and building a bike-friendly environment, don't happen overnight and are achieved with your financial support and willingness to make your voice heard.
Keep in mind that your donation will be matched by a stretch pool of matching funds thanks to Seattle Foundation and other partners, including Microsoft, Seattle Sounders, and the Wyncote Foundation NW, to name a few. Every hour on the hour from 7 AM-7 PM a Golden Ticket will be drawn at random from the donations made in that timeframe; each ticket drawn will earn the selected donor's favorite non-profit an additional $1,000 (we hope you'll choose us!). So your $25 donation could turn into $1,025, just like that!!
The whole purpose of GiveBIG is to inspire people to donate generously to non-profits that make the region a healthier, more vibrant place to live and work. We hope you'll agree Bicycle Alliance is working on your behalf to make the entire state better for bicycling, which is good for everyone whether or not you ride.
ACTIONS YOU CAN TAKE:
1.       Log on TODAY to make a donation between 12 midnight and 11:59 PM, and
2.       Share this information with family and friends (and your boss, if you have employer matching funds!) who support our vision of a more bicycle and pedestrian-friendly state.
Remember–anyone, anywhere with an Internet connection and a credit card can make a donation of any amount on May 15, GiveBIG day! 
Support bike safety and education and help make sure Washington bikes! Thank you for all you do to advance our cause!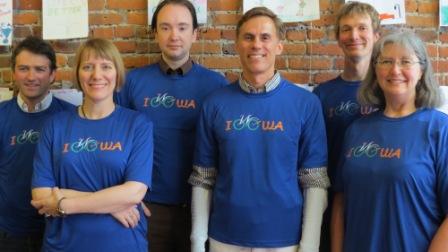 With appreciation,
Barb Chamberlain and Staff of the Bicycle Alliance of WA