For 25 years Washington Bikes—the state's first organization focused on bike advocacy—has led the charge to shape statewide policies to make riding a bike in Washington more convenient, safe, and enjoyable whether you're just starting or have been rolling for years.
But now, with Congress's drastic cuts to funding for bike and pedestrian projects in the recent federal transportation bill—over 30% cut and no dedicated federal funds for Safe Routes to School!—the action in bike transportation policy moves to the state level, where we have a track record of success. We can't quit now—we have some steep hills to climb.
With the help of people like you—bicyclists who care about making riding even better—through the years we've made a real difference.
Statewide Reach: We've provided inspiration, technical assistance, and fiscal administration to groups around the state to help local advocates grow bicycling in their communities, supporting new organizations, new trails, and new events.
Funding: Washington Bikes and our partners successfully alerted and supported key legislators to affirm and restore funding for bicycle and pedestrian safety projects. Building on our groundbreaking push, which began in 2005, in the 2011 legislative session we secured $2.25 million in additional state funding for Safe Routes to School. We began working immediately after the passage of the new federal funding bill to protect that funding.
Education: Washington Bikes collaborated with pedestrian advocates, the Office of Superintendent of Public Instruction, and the State Department of Transportation to train teachers in 31 school districts and 4 colleges, resulting in 20,000 future bicycle riders with knowledge and love of the road.
Livability: With support from a diverse coalition of 35 organizations Washington Bikes introduced bipartisan legislation unanimously passed by the House in the 2012 session that empowers cities and towns to reduce speed limits in neighborhoods. We'll be back in 2013 to get that bill all the way through the process.
Advocacy: We have many more such accomplishments: WSDOT event guidelines protecting the right to hold rides on state highways, the  Ann Weatherill Safe Passing Act, bike education in driver's license requirements, safer bridge designs and bike-triggered traffic signals in the future, protection of the right to use bike trailers on roadways—on and on.
These victories—large, small, and still underway—show how bicyclists can win BIG, when we work together!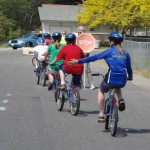 Here's your chance to support important work that will grow bicycling statewide. We've got a special offer for New Members who join during the month of December.
Spread the word to friends, neighbors, and work colleagues: if you join now,  you'll get a chance to win a 2013 Specialized Daily 2 city bike from Gregg's Cycle in Seattle.  Visit:  http://wabikes.org/index.php/support-us/become-a-member/ and sign up today!
And while you're at it, check out the bike  that could be yours by year's end:
http://www.specialized.com/us/en/bikes/globe/daily/daily2
Let's all ensure we do our part to make Washington truly the most bike-friendly state in the nation!
For current members you will be in the drawing if you refer a friend who joins and the new member includes "referred by [your name]" in the comment field of the membership application. Good luck to all!!