Washington Bikes announces our 2021 general election endorsements for candidates for office in communities across Washington state.
Washington Bikes & Votes: Vote for these bike-friendly candidates in the upcoming general election on Nov. 2
Elected leaders who prioritize connected, comfortable and safe places for active transportation and recreation are critical for creating safe, healthy, and thriving communities. That's why Washington Bikes makes candidate endorsements in races across the state. Read on for Washington Bikes' 2021 endorsements. 
Our criteria: Washington Bikes endorsed electeds who led or partnered on efforts to create safer streets for all, increase accessibility to trails, improve healthy communities and health outcomes, and contribute to the economic vitality of Washington's communities. Additionally, Washington Bikes has endorsed first-time candidates who share our vision of neighborhoods connected by bike. 
We'd like to thank all of the candidates, endorsed or otherwise, for taking the time to participate in Washington Bikes' endorsement process. 
The Washington Bikes endorsement speaks to thousands of engaged Washingtonians statewide who care about a range of issues. From wanting more connected trails, to safer and more equitable neighborhood streets, to more opportunities for physical activity, Washingtonians are looking for leaders and policies that will advance these priorities.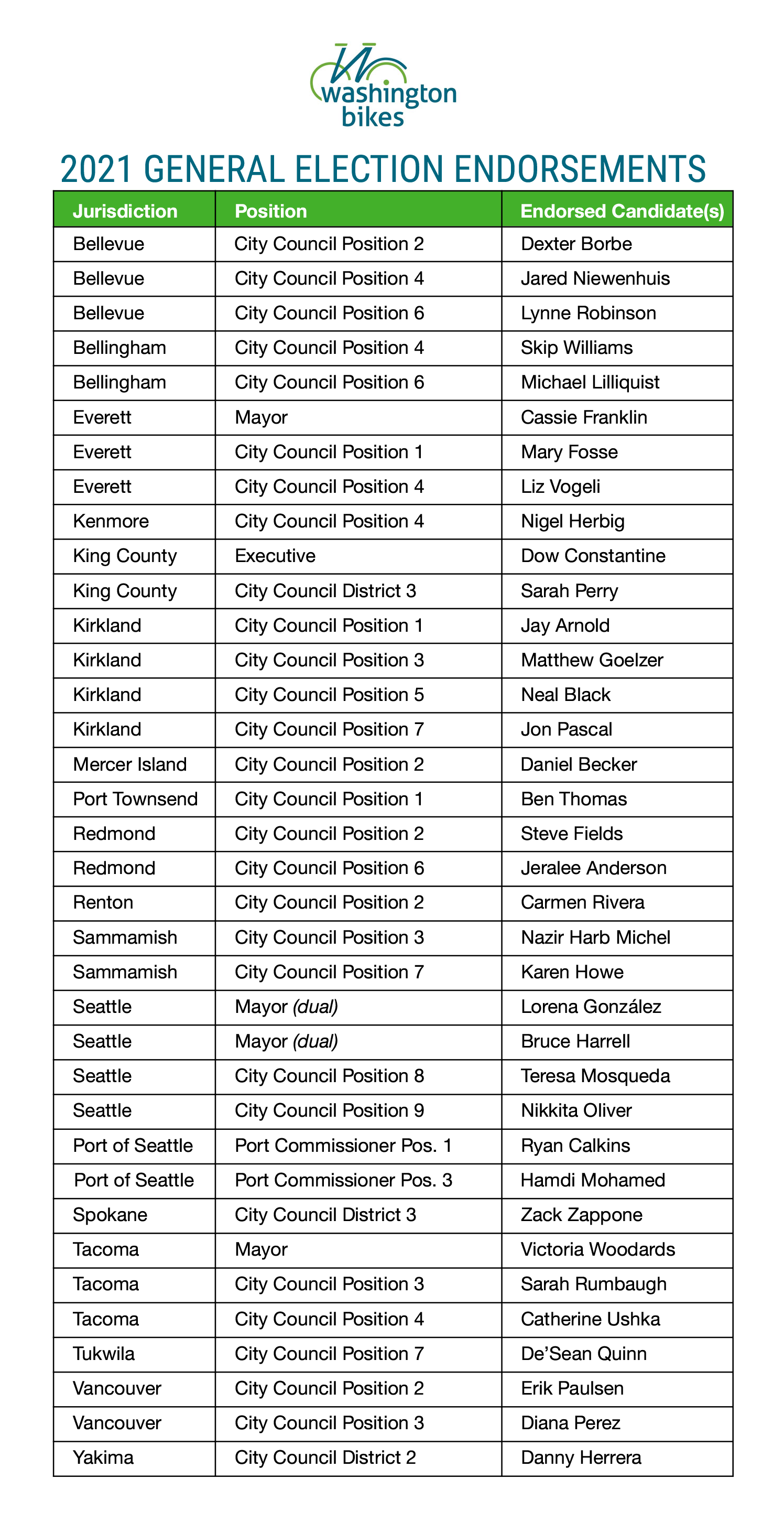 With less than four weeks until Election Day, we are in the final stretch! Are you ready to vote? Register if you are new to WA or have recently moved through the Washington Secretary of State's office. If not, you have until eight days ahead of Election Day to register online or by mail. You can also register in person until the close of business hours on Election Day! 
Curious what will appear on your November ballot? Check out your sample ballot at Ballotpedia. Lastly, Washington is a vote-by-mail state, so expect your ballot in the mail around Oct. 15.