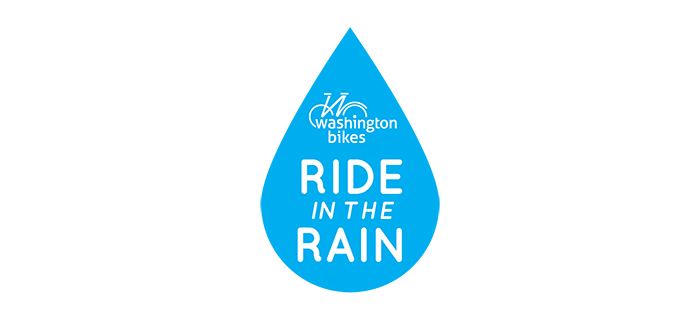 As the rainy season draws near many people hang up their bikes and opt for the comfort of pumpkin spice lattes and warm cars. Those of us who bike in Washington have something else in mind: the Washington Bikes Ride in the Rain Challenge.
During November, the wettest month of the year, participants log their bike trips to compete for prizes, bragging rights and the satisfaction that comes with braving the rain.
Despite having over eight inches of rainfall last November, the 2015 Ride in the Rain Challenge was the most successful yet. We had over 4,000 people riding almost 500,000 miles in the 30-day challenge. Participants competed on 507 teams, which made for an exciting and ever-changing leaderboard throughout the challenge. With the combined momentum from the Bike Everywhere Challenge in May, Ride in the Rain is poised to grow even more.
Like Bike Everywhere Challenge, anyone can participate. It's free, easy to sign up and downright fun. Awards are given away for miles as well as the total number of trips, so you don't have to ride hundreds of miles to be competitive. Whether you commute to work, ride for recreation or are thinking of getting back in the saddle, you're invited to participate!
How the Ride in the Rain Challenge works
Join a team or form your own
Log your trips made by bike Nov. 1 – 30
Record at least eight trips during November to be eligible for awesome prizes and bragging rights
Throughout the Challenge, we'll host events, highlight social media contests, and offer up awards for weekly leaders, final winning teams and individuals.
We believe that if fair weather pedalers see how easy it is to ride in the wettest month of the year, more and more people will feel comfortable riding all year round. So put on your fenders, find your favorite rain jacket and tell your friends. The 2016 Ride in the Rain Challenge is your chance to brave the storm of a Washington November and prove that the weather can't slow your roll!
Find out more about events and prizes and the Challenge details.