Feel like a champion for having ticked off a beautiful ride that includes one of the best climbs in America.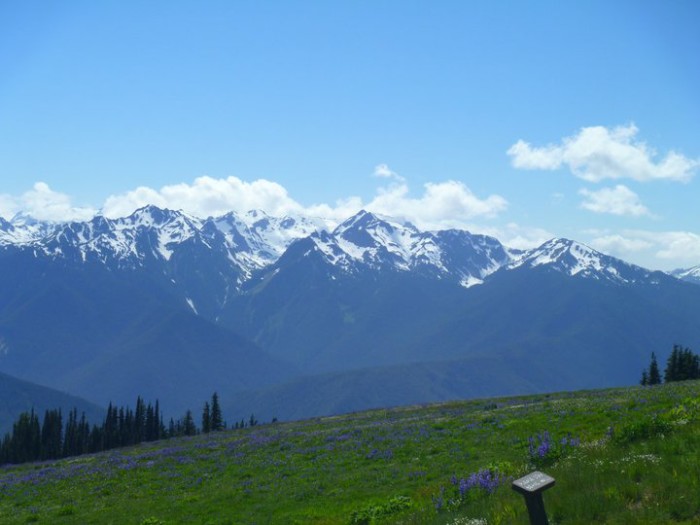 Distance: 80.7 Miles
Elevation gain: 8,270 feet of climbing
Good for: intermediate to advanced riders
Highlights: challenging climbing, fantastic scenery, 17.5 mile descent
It's easy to see why Hurricane Ridge is the tourist destination it is. It rises to an elevation of 5,242 feet and provides a spectacular and unique view of the Olympic Mountains at the top. And, given that the 17.5-mile climb to the top starts in Port Angeles (elevation 34 feet), it's easy to see why cyclists come from all around to test themselves on Hurricane Ridge Road. The Global Cycling Network recently named it one of the Top 10 road climbs in America.
If you're just riding Hurricane Ridge, you don't really need a guide. Park at the base of Hurricane Ridge Rd, point your bike up, suffer for a few hours of climbing, enjoy the views, enjoy the descent. But if you're coming from a ways away, it's nice to extend the ride by parking in Sequim and riding the relatively-flat and very scenic Olympic Discovery Trail to and from the climb.
There is a free public parking lot with restrooms on Sequim Ave just north of Washington St (and half a block from Hurricane Coffee Company). It makes for a very convenient starting point for cyclists driving from out of town.

Start heading north on Sequim Ave for .5 miles. Immediately after crossing Hendrickson Ave, take a left onto the Olympic Discovery Trail. After another .5 miles take a right onto 5th Ave. Unfortunately a flood on the Dungeness River damaged a key bridge and cyclists must detour 3 miles around it for the time being.
After .5 miles on 5th, take a left onto Old Olympic Highway. Stay on this for 2.7 mile then take a left onto Heath Rd. After another 1.3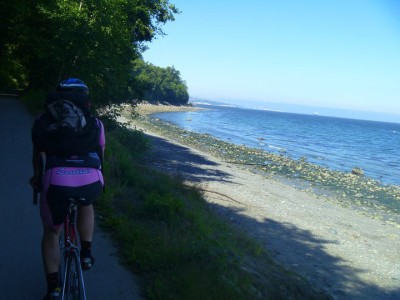 miles take a right to rejoin the Olympic Discovery Trail. You'll spend the next 16 miles on the trail winding through lovely forests, farmland, and eventually right along the Strait of Juan de Fuca as you get near Port Angeles. Most of the trail is relatively flat railroad grade, but there are a few punchy rollers thrown into the mix. None of them are long, but it's a bit surprising if you're used to the Burke Gilman or Centennial Trails.
At mile 21 you'll reach Francis Street Park in downtown Port Angeles. This is your signal to get off the trail. Take a left onto Francis and climb west into town. After .3 miles take a left onto 1st St then your immediate next right onto Race St.
Though you're not yet on Hurricane Ridge Rd, this is where the climb starts. You'll climb out of downtown for about a mile as Race St becomes Mt. Angeles Rd. After .2 miles on Mt. Angeles, hang a slight right to continue on Hurricane Ridge Rd. You'll climb for about 5 miles before you get a nice excuse to rest for a second at the park tollbooth. It's $7 per cyclist entering the park, so bring some cash.
From there you've got 12 more miles of steady 5-8 percent grade climb ahead of you. Assuming you're a mere mortal, you can expect at least two hours of climbing from the start of Hurricane Ridge Road. It is undeniably a slog and, if you're anything like me, there will be times that you're singing to yourself or doing weird math to calculate how far you've got left to climb or questioning why you even like riding bikes.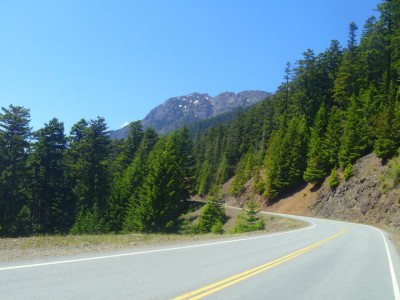 On the plus side there are fantastic views all along the way. At the start of the climb you'll be riding through beautiful forests and past the occasional snow melt waterfall (depending on the time of year). As you climb higher and higher the trees start thinning out and eventually you get above tree line and into the alpine. As you progress, the views of the valleys and peaks off to your left get more and more spectacular. It's well worth the suffering.
And eventually you get to the top! Spend some time taking in the stunning, panoramic views, refuel with snacks in the visitors center, then get ready for the other reward for your hours of climbing. The twisty, winding descent back to Port Angeles is thrilling. It can also be a little spooky when you catch a view of the steep drop offs to your right in your peripheral or some impatient RV driver picks a terrible time to pass. But for the most part people are respectful and the descent is a ton of fun.
Once you're back to town it's simply a matter of retracing your steps on the Olympic Discovery Trail 20 miles back to Sequim. Those 20 miles can feel like a bit of drag after that monster climb, but you'll be back before you know it and feeling like a champion for having ticked off a beautiful ride that includes one of America's best climbs.