Enjoy 48 miles of riding on riverside trails, wide-shouldered roads, and quiet country lanes – and don't forget a stop at the Black Diamond Bakery! Find more bicycle adventures on the Where to Ride page.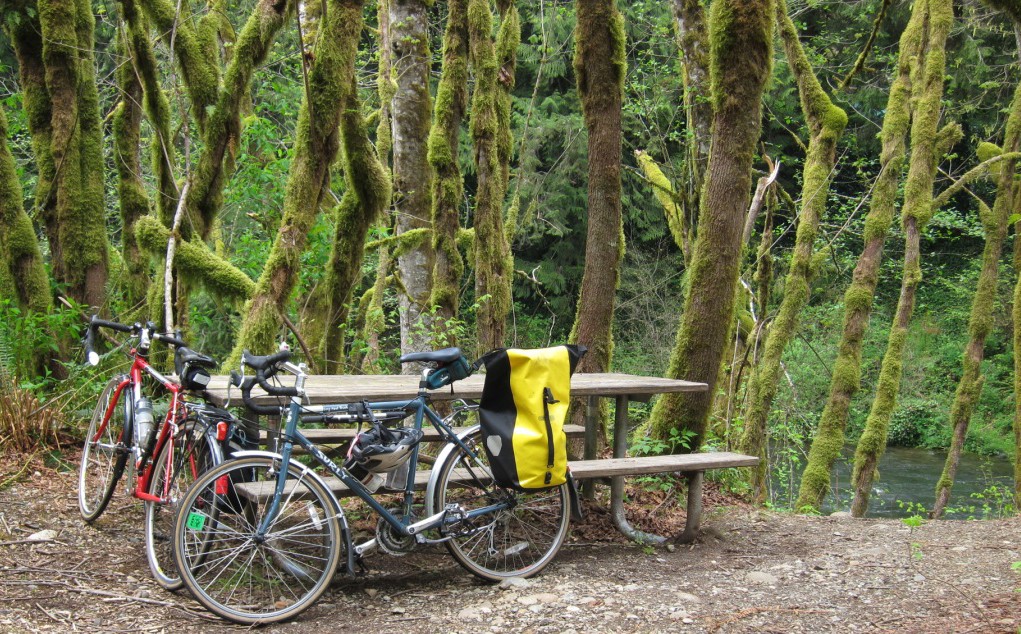 Distance: 48 Miles
Elevation: 2,049 feet
Level: Beginner to Intermediate
Highlights: Lots of bike paths, quiet country lanes, a few steep climbs, a chance to stop at the Black Diamond Bakery.
The Cedar River Trail is an excellent resource for Seattle-area cyclists. Winding 17 miles southeast from Renton into the valley and away from the rush of the city, it offers riders a nice, car-free route out of town. It is also the integral first leg of the Green Valley Loop, a fun, 48-mile road ride with rolling climbs through the forests and low-traffic country lanes through the Green Valley. Given that it passes right by the Black Diamond Bakery—stopping is basically mandatory—this loop is perfect for a weekend morning ride.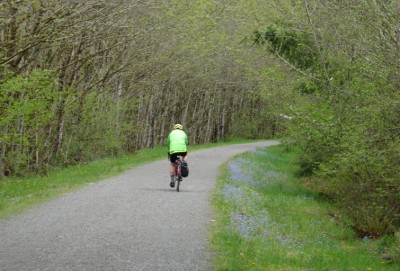 Starting from the Cedar River Trail trailhead under I-405 in Renton, head southeast towards Maple Valley. Enjoy the nice views of the river and the easy warm up as you cruise down the nicely paved path. At mile 10.9 the pavement ends and the trail becomes crushed gravel. It might be a tad bumpy, but you'll be fine riding it on a road bike. Immediately after the pavement ends, take a right up the hill on the Cedar to Green River Trail. This fun little trail winds through neighborhoods and a nice forest for 5 miles, keeping you off the busy WA-169 for as long as possible.
Sadly, all good things must come to an end. At mile 15 take a left onto SE 280th then an immediate right onto Maple Valley Black Diamond Rd SE, aka WA-169. The road can be busy at times, but it has a nice wide shoulder. Stay on 169 for 3 miles until you enter the town of Black Diamond. Take a right on Baker St and a left on Railroad Ave and enjoy a stop at the famous Black Diamond Bakery. If it's a nice day (or even if it's not), it's very unlikely you'll be the only cyclist sampling their coffee and pastries.
After you've had your fill of sweets, continue down Railroad Avenue and take a right to get back on WA-169. You might regret how many pastries you just ate as the road almost immediate turns upwards for a decent climb. After you crest the top of the climb, hang a right onto SE Green Valley Rd (mile 19.9).
Green Valley Road starts off with a fun, twisty descent through the woods and back down into the valley past Flaming Geyser State Park (amazingly there actually is a flaming geyser in the park). Once the road levels off, Green Valley is one of the best stretches of riding the area has to offer. A little twisty, a little rolling, a lot of great farmland, very few cars. Enjoy those nearly 11 miles.
At mile 30.6 hang a sharp right onto Auburn-Black Diamond Rd. Like 169, it can get busy with cars, but the shoulder is wide enough to feel comfortable and you're only on it for 3 miles. At mile 33.9 take a left and climb your way up 168th Way SE, then take a left on Kent Black Diamond Road (mile 34.8). Continue straight under Hwy 18 as Kent Black Diamond becomes 152nd Ave SE. At mile 37.4 keep your eyes peeled for the Soos Creek Trail on your right. This fun little trail takes you 6 miles north into the far outskirts of Renton. Unlike rail trails that have very consistent shallow grades and straight paths, Soos Creek Trail is more rolling and twisty, which keeps things fun and interesting.

The trail ends at SE 192nd Street (mile 43.9). Hang a left and grunt your way up the steep half-mile climb to 116th Ave SE, then take a right. These stretches of suburban streets aren't exactly fun or pretty, but at least you're almost back to your starting point. At mile 45.5 take a left onto SE 168th St. Half a mile later, take a right onto 108th Ave SE and continue straight for 1.8 miles onto Main Ave S in Renton. At mile 48, turn right onto S 3rd St then take your immediate next right onto Mill Ave S to return to the start at the Cedar River Trail.
[Tweet "Trails, twists, & treats. I'm biking the Green Valley Loop from Renton."]
Have a favorite ride to share? Write your ride!