We're thankful for our bicycles , and for you.
Our bicycles: Because they give us so many wonderful experiences, great feelings, and benefits, and the time and space of a bike ride in which to reflect on our gratitude.
Our bicycles give us health, fresh air, and free parking.
Our bicycles give us the challenge of the uphill and the exhilaration of the downhill.
Our bicycles provide affordable everyday transportation.
Our bicycles take us on journeys that let us see with new eyes.
You: Because you share our commitment to grow bicycling statewide.
You read and share our news.
You reach out to tell legislators we need better laws and more investment in comfortable, complete, connected places to ride.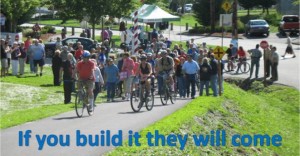 You encourage your friends to ride along with you to experience the joy of bicycling.
You help us out at community events, stuff envelopes, come to our workshops, and attend the annual gala.
You serve on your local bicycle advisory board or volunteer with a club, ride, Bike to Work Week, or Open Streets event.
You tell us about the best places to ride (and the places to eat, drink, and be merry) so we can share them on our blog and get more people to choose bike travel.
You're there for the groundbreaking and for the ribbon-cutting.
You tell us about a local project or priority and ask for our help, giving us stories we tell legislators as we work for better bicycling.
You support our school and family programs and Safe Routes to School to get the next generation riding.
You give generously so we can work around the state, because everyone in Washington deserves great places to ride.
You're the reason Washington is the #1 Bicycle Friendly State in America.
For all of this and so much more, thank you.