By Barb Chamberlain and Elizabeth Kiker
The two of us agree: It's no accident that the #1 Bicycle-Friendly State is home to the nation's largest bike club. The people of Washington savor the beautiful outdoors, a history of citizen activism and more miles of trails than any other state in the West.
Put those together and you have all the necessary ingredients for improving lives through bicycling—Cascade's new motto—and growing bicycling statewide—Washington Bikes' motto. That winning formula is why Cascade Bicycle Club has recently become a Gold Wheel organizational member of Washington Bikes, aligning themselves with the statewide mission of WA Bikes.
Success depends on working well with others and we know how important it is to have strong local and regional bike organizations working closely together and speaking in a unified voice when they go to the legislature. As we transform the region for bicycling, we are grateful to have a strong partnership with WA Bikes to ensure a coherent voice in Olympia is speaking up for cycling. –Elizabeth
[Tweet "Partners for better bicycling: @CascadeBicycle + @WAbikes"]
Cascade and WA Bikes have complementary programs in areas such as bicycle safety education and we're constantly exploring new opportunities to join forces. A few examples:
We're working together to plan a statewide bike conference to be held in 2015.
Washington Bikes volunteers now staff a booth each year at the packet pick-up for Cascade's sell-out Seattle-to-Portland (STP) ride.
As WA Bikes works to promote bike tourism, Cascade's great organized rides such as the Ride Around Washington and the new Cascade Bicycling Center all boost Washington's profile as an incredible destination for bike travelers.
For a while in 2012-2013, we even had a board member in common—Joe Platzner served on both boards, then stepped down to serve as the interim executive director at Cascade.
The two of us meet almost weekly to compare notes so that more gets done for bicycling and we don't miss an opportunity to work together.
We were simultaneously but separately working on the same idea: business cards that biking customers could leave behind to show business owners that bikes mean business for them. Now we have cards with both logos.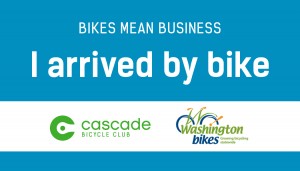 The partnership with Elizabeth and Cascade just keeps growing. We collaborate on grant proposals, we visit elected officials together, we talk about the strengths each organization brings to the partnership and how we can leverage those. The work that Washington Bikes does to grow bicycling statewide builds on the strong foundation of Cascade's years of bike advocacy in the greater Seattle region. –Barb
Just as a bike ride can be more fun when you ride with friends, Cascade and Washington Bikes are rolling together into the future of bicycling.
[Tweet "Send message w/new #bikesmeanbusiness cards available from @cascadebicycle or @WAbikes"]