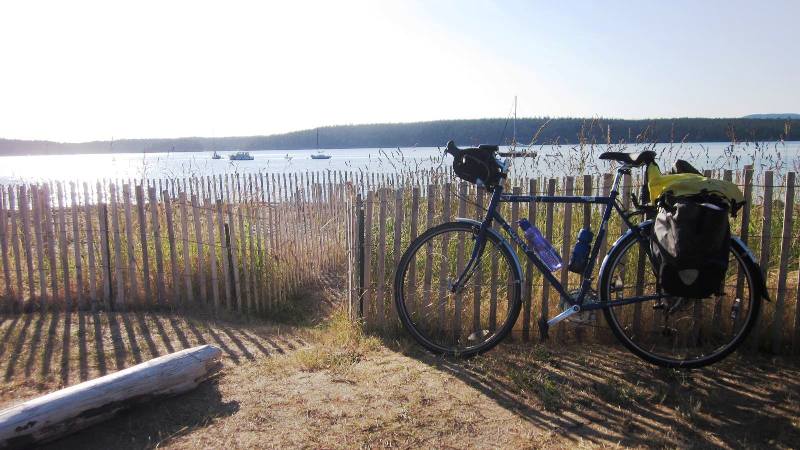 Today's guest blogger is Rebecca Roush of Seattle. She is a bike commuter and edits the blog Seattle Bicyclist Portraits.
Want to bike #SanJuans? RT this Mount Vernon/Anacortes/Lopez #biketouring trip to put it on your #bikeit list: http://t.co/xsTwYGrWDy

— Washington Bikes (@WAbikes) July 10, 2014
Q.  What happens when five women want to try bicycle camping, and they work with a woman who's done it?
A.  A six-woman bicycle camping trip!
Washington Bikes board member Kirste Johnson took five of her coworkers from Sound Transit on a post-Bike Month tour and camping trip that she made sure was well-planned and well-supplied. It was a big success, and an added bonus is that we all became better friends.
The trip went from Seattle to Lopez Island and back over three days, and due to work schedules and a funeral, we met up at different points along the way. How did people do this before smart phone technology?
Kirste and I took the train from Seattle to Mount Vernon. She showed me how to "process" my bicycle for loading on the train (well worth researching prior to taking a bicycle on Amtrak). Kate boarded the train in Edmonds. Sue drove from Tacoma to Mount Vernon, and once there, the four of us rode our bicycles to Bow to camp at Harmony Fields, an organic farm run by Kate's friends. This was a leisurely and lovely ride on Skagit County roads through farm country with little traffic. That evening we rode to The Edison Inn for dinner, and the ride back to the farm was extraordinary because of the sunlight, the blueberry farms, and three young men performing Tex Mex music in a garage.
We pitched our tents in a lawn with some mole hills. In the middle of the night, I could hear something moving underground under my pillow. I'd hit the ground with my fist and it would stop for a few seconds, and then take up the scurrying again. Ah, country living!
The next morning we broke camp and rode to the Farmhouse Restaurant on Highway 20 for farm-worker calories and to meet Candace, who took the train that morning with her new bicycle built by her sister. She rode by herself from Mount Vernon to meet us. We were all proud of her and admired her bicycle, which she said was "Awesome!"
Kirste guided us to Anacortes, which is impossible to do without travelling a few miles on Highway 20. While it's unpleasant, there is a wide-enough shoulder to feel safe. This was made up for by the stunning Tommy Thompson Trail into Anacortes, which warns bicyclists to watch out for the pieces of clam shells left by seagulls, and the possibility of punctured tires. Along the way we passed an inlet at low tide that was full of fishing Great Blue Herons. It was "herondous".
In Anacortes, Kirste met a friend for lunch at the Adrift Restaurant (510 Commercial Avenue) in old town Anacortes while the rest of us bought picnic food for dinner from the local farmer's market and The Market at Anacortes, a fabulous local grocery store. We put air in our tires at bikespot, a small bicycle shop (210 Commercial Avenue) and headed for the ferry. By the time we left Anacortes, our panniers were bulging.
We pedaled to the ferry terminal, which took us through older residential neighborhoods with charming houses and yards. The shoulder along this busy route varied in width and quality. It was good to have a ride leader who pointed out scars in the shoulder. If we'd had more time, we would have stopped to visit Causland Memorial Park which is on the National Register of Historic Places. Its stonework structures are sometimes likened to that of Spanish architect Antonio Gaudi.
Our last group member, Jan, was hightailing it by car from Silverdale, and just squeaked onto the ferry in time. I was waiting at the loading dock after everyone else had boarded, with her ticket in my hand. She breezed by with a grin on her face and grabbed the ticket, leaving me the last to board.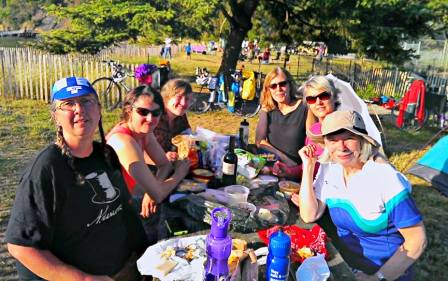 The route from the Lopez Island Ferry terminal is a steep one for the first mile, so after our deboarding, the ferry crew had us wait to the side until all cars had unloaded before our continuing to Odlin County Park, where we had reservations to camp.
Kirste had smartly made two campsite reservations. The campground was packed with kids, families, partiers, and other camping bicyclists. We set up camp, checked out the park, ate our picnic dinner with wine made by Jan and her husband, and settled in. We all sat at a picnic table and loved being there in the sunset's rays, drinking wine, getting to know each other better and laughing as Candace and Jan imitated various regional accents from around the eastern seaboard. They was wikkit.
The next morning, Jan, Sue and I rode into the village on Lopez Road and discovered that the park in the village has showers and restrooms. Good to know as bathing opportunities at the campground were nonexistent.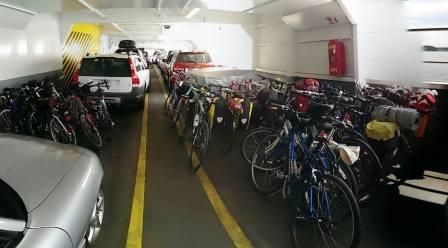 Once we were all packed, we headed to the ferry landing. There had to have been 30 bicyclists waiting for the ferry with about 30 different kinds of bikes; so many that the ferry personnel appeared to be overwhelmed and ended up having us stow the bikes between cars on the upper deck. When the ferry landed in Anacortes, there was a steady stream of bicyclists unloading and heading up the hill.
We kept a good pace getting back to Mount Vernon, pedaling by the refinery in Anacortes, a bit on Highway 20, and past more acres of blueberry fields. We had a few hours to kill before the train, so Sue headed back to her car, some of us went to Skagit River Brewery, and some of us hung out in the comfortable lounge area in the Skagit Valley Food Coop  – a bronze level Bicycle Friendly Business.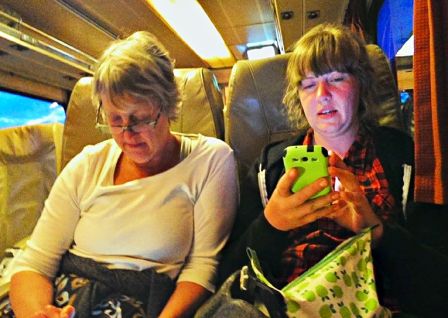 At the train station, we scrambled to load our bikes on board (we were waiting at the wrong end of the platform) and once settled on the train, pretty much collapsed.
A few days after our return, I tested the waters by inviting the other five to a lunch-time planning meeting for our next bicycle camping trip. All immediately accepted the invite. Now that we're seasoned camping bicyclists, we're already wondering what our next trip might be.