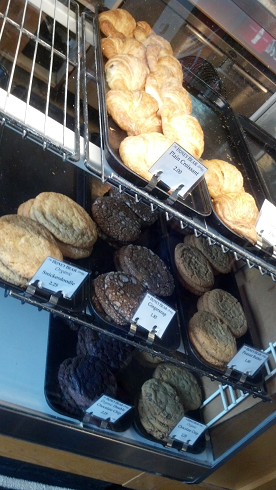 On a sunny weekend day, my sweetie and I rode to Honey Bear Bakery inside Third Place Books in Lake Forest Park, a great unexpected destination if you're looking for a pleasant day trip bike ride in Seattle and a useful stop if you're on a longer bike tour and need a few things.
As newcomers to Seattle we didn't realize how iconic the original Honey Bear in Greenlake was. When I posted our destination on Facebook a friend who used to live in Seattle asked, "Was it as busy as it always is?" Nice to stumble across something everyone else already knows is awesome!
The Food
A few bakery case pictures should have you getting on your bike immediately.
This slideshow requires JavaScript.
Cakes, pie, cookies, croissants, cupcakes with thick swirled frosting…. They have long been known for the amazingness of their cinnamon rolls, although I can't (yet) personally attest to those. The menu of sandwiches, soups, and weekend breakfast scrambles sounds delicious. We'll definitely head back there for a weekend breakfast bike date one of these days.
Restaurants, Groceries, & Bike Supplies
Additional points for Lake Forest Park as a destination if you happen to be on a bike tour of the Seattle area and find yourself on the north end of the Burke Gilman Trail:
Parks
You have your choice of parks nearby if you want to take your food somewhere to eat outdoors:
The tiny half-acre Blue Heron Park just off that same intersection where you cross Bothell Way, with McAleer Creek running through it,
Lyon Creek Waterfront Park on Lake Washington just north of the intersection (go back to the Burke-Gilman Trail and look to your right/east)
Ride one mile north on the trail to Log Boom Park in Kenmore, where your inner child can find expression on the playground and you can swing your legs from the dock and gaze at Lake Washington.
Bike Touring — To a Mall?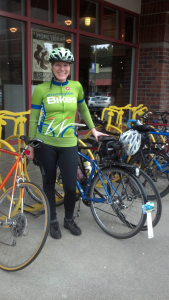 If you were bike touring through the north end of Seattle anywhere near the Burke-Gilman Trail you'd want to know about this spot. Malls aren't usually on anyone's list for a bike travel destination but this one has locally owned businesses with atmosphere, bike supplies and groceries, and is worth the stop.
Getting to Honey Bear Bakery
Your destination: From the Burke-Gilman Trail northbound, cross Bothell Way NE (which is also Hwy. 522) at the 170th NE Place traffic light where you see the Lake Forest Park Town Center mall. Third Place Books/Honey Bear is toward the back of the overall mall.
Option 1 — Direct route coming from the south: This map starts from the Washington Bikes Seattle office in Pioneer Square, which is just four blocks from King Street Station and the light rail stop in the International District.
We're open Monday-Friday and always happy to have biking visitors stop in to pick up the Seattle bike map and other bike maps from around the state. (We also have a bike gift shop if you're in the mood to shop before heading to the bakery.)
This route uses Fourth to Pike. You'll have a left-side bike lane much of the way, then need to move to the right lane to turn right onto Pike. This can be busy during standard business hours; you have a slight downhill helping you keep up with the cars as you change lanes.
Alternatively, you can stay on First Ave. from our office to Pike and turn right. Move to the left lane before Seventh for your turn. (Urban traffic note: If you ride in the far left lane on Pike you'll keep getting hung up behind left-turning cars waiting for pedestrians to cross. Take the second left lane and you'll cruise. This takes you through the Convention Center traffic so you'll see lots of taxis, buses, and pedestrians.)
Heading north this route makes use of the Melrose Trail above I-5 and the trail shortcut under I-5 to get you to the University Bridge. This is a quieter option with lower traffic volume than taking Fairview/Eastlake to the bridge. It's more direct than the first suggested route on Google Maps, which makes more use of trails but routes you out of your way.
After crossing the bridge you'll head right and pick up the Burke Gilman Trail.
If you'd rather take trails for almost the entire route, you'll double the miles and have a very pleasant ride along the waterfront, past the Seattle Great Wheel and other attractions, and through the Olympic Sculpture Park. You'll get hit with a bracing wind off the sound as the trail curves right away from the water that becomes a tail wind as you head east.
From Woodinville
If you're taking advantage of the great trail connections in the region and coming from the East Lake Sammamish Trail, it's easy. You could also come south from Snohomish County on the Interurban Trail.

No matter where you're starting from, you'll want to end up at Honey Bear. Be sure to comment here on the goodies you ate. Cinnamon roll, anyone?
Related Reading
Your Turn
If you're a long-time Honey Bear fan (or just discovered them), what's your favorite baked good?
Malls aren't usually written up in glossy travel magazines. Any others you'd recommend that have the kinds of places bike touring folks might want to check out?
Essential question! What bakery should we make a future destination on a weekend?