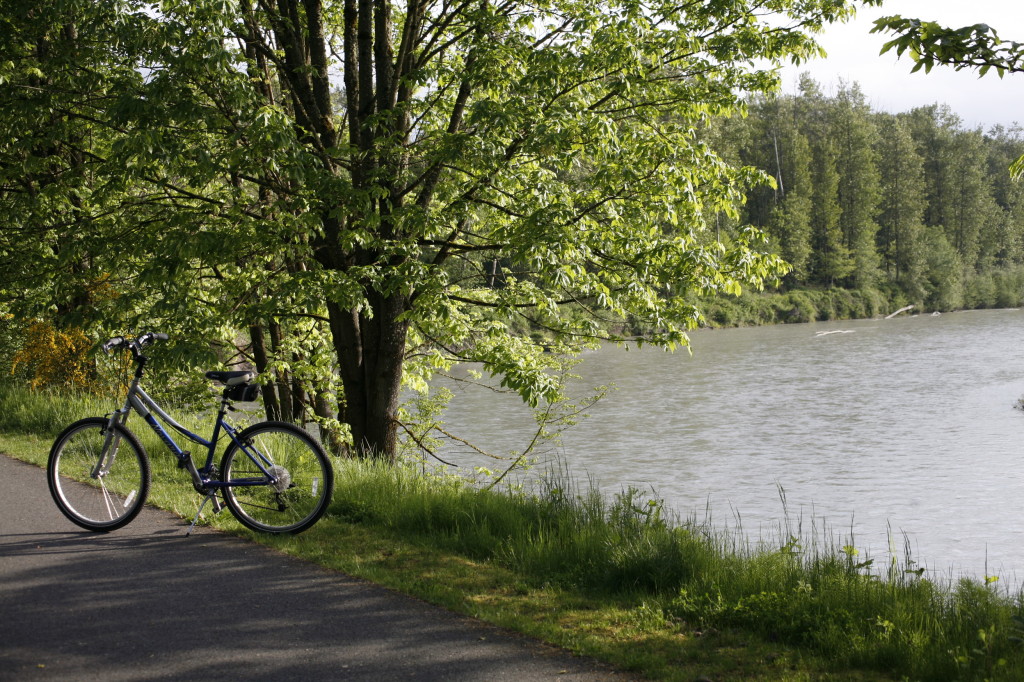 Snohomish County Bikes: an ongoing series highlighting great Snohomish County bike rides. Share your own great ride with us here!
Location: Snohomish County [Trail Map]
Distance: 1-60 miles (choose your own adventure!)
Best for: beginners, families
Highlights: Car free, scenery, restaurants, shopping
The Centennial Trail is a gem of a multi-use path in Snohomish County. The paved trail runs from the City of Snohomish to Nakashima Farm, 8 miles north of the City of Arlington. At 30 miles, the Centennial is longer than the Burke Gilman and the Sammamish River Trails combined, making it one of the longest continuous paved trails in Washington!
The Centennial Trail winds its way past old-fashioned farms with horses and cows out to pasture, through green forests, along the Pilchuck River and Little Pilchuck Creek at times, and across Stillaguamish River at the convergence of its North and South Forks. On a clear day, the trail offers the occasional views of the North Cascades looming in the distance. The diversity of scenery helps keep things fun and interesting as you pedal your way down the trail. The county has installed interpretive signage at various key points and intersections on the trail explaining the history of Snohomish County's farms, industry, and more.
The Centennial Trail's first section opened in 1989 in conjunction with the 100th anniversary of Washington's statehood. The newest section of the trail, from Arlington north to Nakashima Farm was just completed in 2012. An additional gap in Arlington will be completed in June 2014.
With the recent acquisition of 12 miles of the Eastside Rail Corridor in Snohomish County, planning is now underway  to extend the Centennial 12 additional miles south to the King County border, and then on to the Burke Gilman Trail.
With 11 trailheads spread out along the 30 miles, Snohomish County has made it exceptionally easy to create a ride suited to your needs. Want to ride the entirety of the route? Park in the City of Snohomish and do an out and back on all 60 miles of trail. Want to take a short ride with the kids? Park at Bryant Trailhead, ride four miles south to Arlington, play in the sound garden on the trail, then pedal back north. The options go on and on.