Bike to School Month kicks off this week, and more and more students around the state are riding as part of school. It may be a one day celebration of Bike to School Day on May 7th in Vancouver, bike rodeos in Spokane, a week of bike encouragement in Port Townsend, a month long challenge in Seattle through Cascade Bicycle Club, or teaching all middle school students safe riding skills in Benton City. What ever the style, more kids are riding every spring.
Interested communities keep coming. We recently returned from La Center, a small community outside of Vancouver, where we trained school staff in teaching the Bike and Pedestrian Safety Education Program. It was a wonderful, engaging, and very wet training teaching the school staff an 8-lesson curriculum for middle school students on walking and riding. 
With this program, the community is poised to make great strides in promoting biking and walking. The streets around La Center are predominantly calm and many have sidewalks. There are even some separated trails – one connecting the middle school to the high school. The 10 participants of the training included teachers, principals, parents, and even the superintendent. They have passionate instructors and dedicated visionary leaders to inspire students to walk and ride.
This program unleashed a much larger vision for bike to school programs at the district. Their vision includes more bicycles to reach late elementary students, a bike maintenance barn, using bikes for science field trips, and multi-day bike tours exploring the trails of southwest Washington. Currently, the start and end of each school day results in an enormous traffic jam from so many family cars driving kids to school. As more students ride and walk to school, the entry area of the schools will transform from being extremely congested with idling cars to flowing with smiling bikers and walkers.
La Center is one of 11 new districts we welcome this year to the Safety Education Program. Cascade (Leavenworth), Deer Park, Kettle Falls, La Center, La Conner, Newport, Northport,  Port Townsend, Riverside, Tumwater, and White Salmon School District all receive curriculum on safety education for middle school students, training from Washington Bikes and Feet First on how to teach the curriculum, a fleet of bicycles and trailer, and ongoing support from us to make sure the programs run smoothly.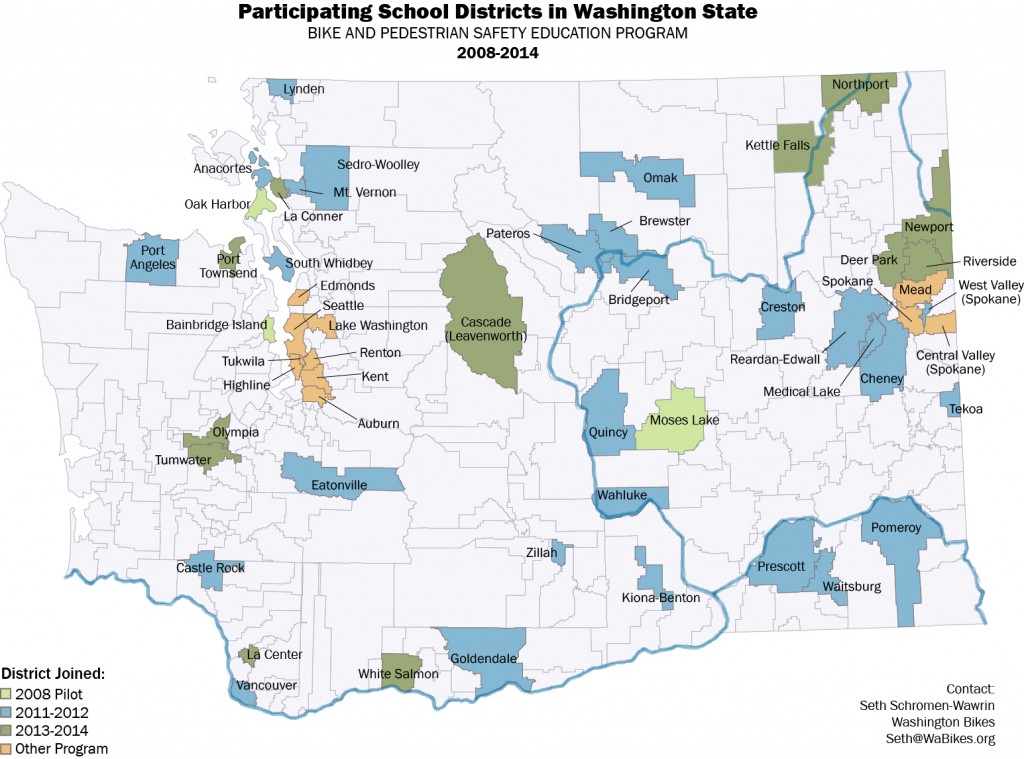 By the end of the year, we will have over 40 districts teaching the curriculum, reaching over 15,000 students a year! Washington Bikes worked with the legislature to pilot the curriculum in 2008 and established an official program in 2011 through WSDOT's Safe Routes to School Program. Since then, we have been expanding to new districts each year touching tens of thousands of students.