More than a decade later, I still recall the very first copy of SDOT's indispensable Seattle Bicycle Guidemap that  found its way into my then-young hands. It was a constant companion through those warm Summer days and nights when I first left the sheltered inlet of residential streets surrounding my family's house, and tentatively waded out into the roaring asphalt ocean that waited beyond. This map steered my handlebars through the unfamiliar urban fray and led me to the safe havens of bike lanes, low-traffic streets, commonly-cycled routes, and multi-use paths. It was with this map that I first truly explored my home city and its environs, and first came into my own as an urban cyclist — and it is no small source of pride and joy for me that, if you've ordered your free copy of the Seattle Bicycle Guidemap at any time in the past couple of years, it was I who mailed it to you.
The first run of the 2014 map arrived along with the first inklings of sunny weather. It handily indicates every multi-use path, bicycle lane, sharrow, signed route, and neighborhood greenway that presently graces the Emerald City — and comes with a wealth of information and tips to help you get around town.
The ink is barely dry on this marvelous publication, and we've already been strained by the unprecedented demand! If you receive your map this week, it was part of the teetering, head-high motherload that I carted over to our local post office on Friday amid the anxious stares of passers-by.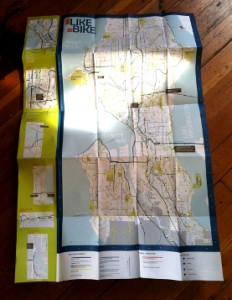 I regret to say that this year the City has yet to print sufficient quantities of the map for us to hand it out by the whole box to local shops and libraries, as we have been glad to do in the past, and hope to do again soon. Plans for a second print run are in the works to meet the need. If you'd like to hand out bulk quantities of the map at your venue, please contact me (at elliott@wabikes.org or 206.224.9252, x300) so I can add you to my list. As soon as we have boxes on our shelves again, I'll set one of them aside with your name on it.
You can still order your individual copy of the 2014 Seattle Bicycle Guidemap through SDOT's online form, and I'll have it in the mail to you within a week (and don't forget to include your name, full address, and zip code). You can also view and download an online version of the map. And if you're ever in Pioneer Square on a weekday, feel free to drop by our storefront and check out this and other bicycling maps for areas around the state.
Happy cycling,
Elliott