With the 2013 Washington Legislature's regular and special sessions complete, Washington Bikes reviews our victories, disappointments, and outlines next steps. Part 1 catalogues our victories and thanks you and our legislative champions for the hard work and support that gave us the policy and investment victories to continue growing bicycling statewide.
Lasting almost six months, 2013 marked one of the longest legislative sessions in Washington state's history. It was a marathon, for sure, and we can't thank you enough for your support and outreach to our elected officials. Your emails, calls, and letters show the 2013 Washington Legislature the import of improving safety, connectivity, and mobility for Washingtonians.
Because of your help and hard work in contacting state legislators to let them know your priorities, we can count the following victories to grow bicycling statewide.
Thank you.
Neighborhood Safe Streets Bill. On May 16 Governor Jay Inslee signed Representative Cindy Ryu's HB 1045, the Neighborhood Safe Streets Bill, into law. Governor Inslee's bill action represents the end of a three-year legislative odyssey for Washington Bikes, our legislative champions, and the countless organizations and cities that supported common-sense legislation to give cities and towns an easier pathway to make safe streets.
In addition to Representative Ryu's fantastic support, thanks go to Senators Andy Billig and David Frockt for seeing it through to become the very last policy bill passed in the senate before the session cutoff.
Washington Bikes is now working with our partners to work on early implementation for this law, which will become effective on July 28, 2013.
Federal Safe Routes to School Investments Protected. Thanks to the hard work of Senator Andy Billig on the transportation budget, Safe Routes to School Grant Program investments were restored to their pre-MAP-21 federal funding levels, bringing the 2013-15 investments to $18.45 million – the highest rate of investment for Safe Routes to School in Washington state history. This investment is expected to fund 42 school safety projects statewide. Thanks also to Representative Jessyn Farrell who worked tirelessly on the House side to ensure the success in protecting this funding.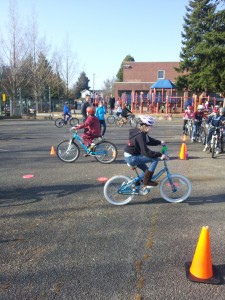 Combined, the bicycle/pedestrian safety and mobility and safe routes to school grant programs for the 2013-15 biennium now total $30.45 million – this two year figure equals about half of the entire investment made over the previous 8 years! Progress is being made.
Through our direct advocacy in the past 12 months, Bicycle Alliance has led the charge for protecting $11.7 million in federal funds for the Safe Routes to School grant program. Over the next two years, these investments will fund 28 school safety projects statewide.
SB 5263, Concerning motorcycles overtaking and passing pedestrians and bicyclists. While originally not included in this legislation, an amendment facilitated by the Bicycle Alliance and Cascade Bicycle Club and introduced by Senator Christine Rolfes added a 3-foot passing distance requirement for motorcycles overtake bicycles and pedestrians in the travel lane. This legislation provides everyone who supports sharing the road an important and incremental start to develop a uniform safe passing law that incorporates a 3-foot passing requirement.
Trail investments statewide. We're still combing through the lists but a great victory includes $700,000 to extend Anacortes's Guemes Channel Trail. One of that city's top legislative priorities, this trail still needs additional funding to complete it – something we were fighting for in the transportation revenue package that failed on the final day of session. Special thanks go to Senator Kevin Ranker and Representative Kristine Lytton for their work on securing this investment.
Some of the additional great trail projects included as community priorities and investments in the Capital Budget for 2013-15 include: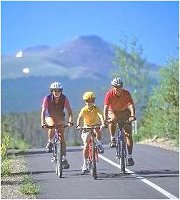 What does it mean?
Thanks to your help and the hard work of many legislators from around the state, 2013 brought Washington:
The ability for cities and towns to set safer neighborhood street speeds to 20 miles per hour without facing the obstacles of conducing time-consuming and costly studies
$4.5 million in federal funding protected for Safe Routes to Schools. Including the additional $25.95 million secured, the next two years of investments for state biking and walking safety grant programs totals $30.45 million
Approximately $10 million for trail extensions and improvements across Washington state
The beginnings of a law to clarify safe passing distances when overtaking bicycles
For the rest of the story see Part 2–What Didn't Go Our Way.