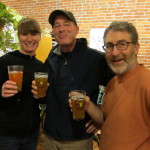 On Thursday May 2 come on down to Washington Bikes to celebrate Bike to Work month.  For the second year in a row we'll have our own special-brewed Ale-Liance IPA beer from Schooner Exact available for tasting. Over the coming months you'll find it at many of your favorite pubs throughout the city. $25 from each keg sold is returned to the Bicycle Alliance in support of our education and safety programs.
In addition, this month on our walls we'll feature an art exhibit called Bikes Make Life Better culled from a statewide contest of 5th graders. Enjoy the colorful, fanciful exploration of why biking makes many young hearts go thump-thump-thump.
You'll also want to enjoy an exhibit hosted by the Alley Network Project and International Sustainability Institute, our partners in the building. O Horizon, an installation by the Unearth Collective, is a one-night only large-scale immersive artwork that will transform the paved ground of Nord Alley into a temporary forest floor.
So pedal on down from work or home to Bicycle Alliance to enjoy some good ol' conversation, connect with old friends and meet some new ones, and savor a nice cold Ale-Liance.
IMPORTANT DETAILS:
Location: 314 First Ave S., Pioneer Square
Time: 5:30-7 PM
History of Ale-Liance: Check out last year's blog post on how our namesake brew came to be
Event to share on Facebook too