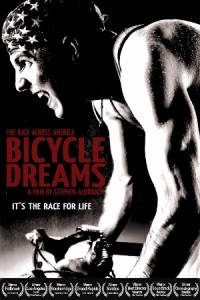 Bicycle Dreams, the award-winning feature-length documentary about the Race Across America (RAAM), will premiere for the first time in Seattle at the Harvard Exit Theatre on Thursday, March 14 at 7 p.m. The screening is presented by Washington Bikes.
The film, which has won numerous awards at film festivals all over the world, "is an up-close look at what RAAM riders go through," says Stephen Auerbach, the director and producer of Bicycle Dreams. "They deal with searing desert heat, agonizing mountain climbs, and endless stretches of open road. And they do it all while battling extreme exhaustion and sleep deprivation. It's a great subject for a film."
We hope you'll join us for this special big screen showing of Bicycle Dreams. In addition to the movie, we will feature a brief presentation by Ben Robinson of Seattle. Ben, a past RAAM participant and former board member of the Bicycle Alliance, will share his personal experience riding this demanding event. There will also be a cash raffle with proceeds benefiting the Bicycle Alliance.
Tickets are $11 in advance and $15 at the door the night of the show. To purchase advance tickets, order online at www.landmarktheatres.com/market/seattle/harvardexittheatre.htm. The Harvard Exit is located at 807 E. Roy Street in Seattle.