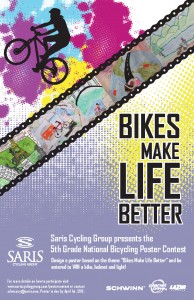 As spring draws near, kids start to dream of exploring, riding, playing, jumping, rolling, meeting, breathing, and soaking in the outdoors while on a bike. Now, 5th graders can take those spring plans, turn them into an awesome poster, and win prizes through a poster contest coordinated by Washington Bikes.
We are partnering with Saris Cycling Group, a manufacturer of bicycle racks and cycling training products, to launch a bicycle poster contest to get fifth graders to think about the benefits of the bicycle.  The contest is asking 5th grade students in Washington State to create a poster around the theme "Bicycling makes life better."
The top state submission will win a bike, light, and helmet, and be entered in the national contest for a chance to win a bike rack for their school and trip to Washington DC for two. Prizes will be awarded to the winners from each school.
Schools have until April 1st to have their 5th grade students make posters. Sign your school up for the contest! Contact Seth at SethS@BicycleAlliance.org or (206) 224-9252 x301.