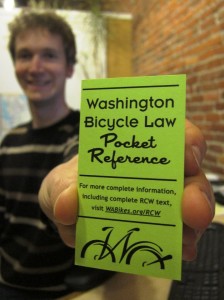 Here's a little pocket reference you'll want to have on hand to share with your cycling friend who blows through stop signs or that co-worker who tells you bikes don't belong on the road.
The Washington Bicycle Law Pocket Reference is a synopsis of our state's bike laws with the applicable RCWs (Revised Code of Washington) cited for further information.  This handy little resource fits easily into your pocket or wallet so you can always have it on hand.
The pocket reference is produced by Washington Bikes and is free for the asking.*  Email info@wabikes.org to request copies.
*We do ask for a small donation to cover the cost of requests for bulk quantities.