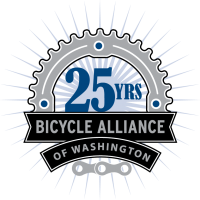 When a dozen Seattle cyclists gathered in the fall of 1987 to create a new organization, email, Facebook, Twitter, and blogs were the realm of science fiction and fantasy. Those cyclists came together as the Northwest Bicycle Foundation and their vision was a 24/7 advocacy organization with "more people bicycling more often."

To say that the world has changed drastically in the last 25 years would be a complete understatement. Indeed, many more people are biking, and millions of dollars are spent on bicycle facilities from trails to safe routes to school to cycle tracks. Today that fledgling group from 1987 is called Washington Bikes and we have grown from a few dozen Seattle advocates to an army of thousands across Washington – focused on growing bicycling statewide.

And what a quarter century it has been as we've grown from an attic office with a part time executive to our new headquarters in Pioneer Square with statewide program managers, and newly hired policy director and development manager. Notable achievements include:

Passage of the Cooper Jones Act. Prompted by the death of Cooper Jones in Spokane, the Bicycle Alliance worked feverously with Cooper's parents David and Martha Jones to pass this bill. It requires mandatory driver's license retesting for drivers involved in fatal or serious injury collisions and created grant funding administered by the Washington Traffic Safety Commission . 
Growing Safe Routes to School. In 2008, we launched SRTS as a pilot project in three schools and today 31 school districts around the state are offering bike safety education to students. This program has grown from $1,000,000 appropriation for infrastructure changes, to upwards of $10 million. 
Creating the Share the Road license plate. With financial backing from life member Don Martin, we jumped through many hoops to be granted a Share the Road specialty license plate. Plate sales help fund bicycle safety education statewide and over 4765 plates have been sold to date. Use this link to purchase one today!
Incorporating biking and walking info into motorist education. The Bicycle Alliance, assisted by super-volunteer Brian Faller, helped rewrite the Department of Licensing driver's education manual bicycle/walking subsection which now includes test questions on the license exam. Share the Road license plate funds were used create an interactive curriculum for driver's education courses that educates young drivers. 
Making texting and hand held cell phone use while driving a primary offense. Working with the Distracted Driver's Task Force, we helped to pass the Text-Talk-Ticket bill.
Local area advocates are the key to our success. Beginning in 1993, we conducted six workshops around the state to teach bicyclists to be effective advocates and prepare them to serve on bike boards and committees. Our advocacy outreach was expanded in 2010 with a grant from the Alliance for Biking and Walking which created a series of community workshops we call Hub & Spoke: Growing Bicycling in Your Community.
To celebrate our 25th anniversary, we're planning a fall anniversary celebration where we'll launch our new website and unveil our new logo. You'll get a chance to meet our new executive director, and say goodbye to outgoing ED Barbara Culp. Stay tuned for details!