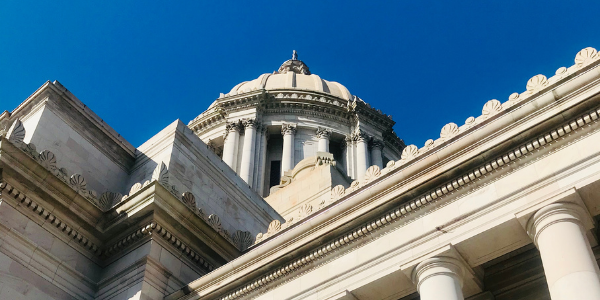 Written words and plan documents represent promises that advocates can hold leaders accountable to, and cities must identify funding to realize. That's why Washington Bikes has joined Futurewise in the effort to ensure counties and cities are planning for climate-resilient, multimodal communities that make it easy to bike, walk, and roll. This legislative session we are part of the #WashingtonCan'tWait campaign.
Cities across Washington must update their Comprehensive Plans (a 20-year land use, transportation, and housing plan) by mid-2024. Many communities are poised to launch their planning processes in early 2022. Comprehensive Planning can feel academic and detached from the reality of how we experience our neighborhood streets, transportation options, housing affordability, and proximity to open space. But a Comprehensive Plan is where communities put a stake in the ground of the direction their community is moving towards, and the investments they plan to make to realize it (even if the realization is years away). 
That's why the Futurewise-led push to update requirements that cities plan for – to include climate resiliency strategies, and for people to have safe, seamless and affordable transportation options – is so important during the 2022 legislative session. Ensuring counties and cities are planning to reduce vehicle miles traveled in their comprehensive planning equates to plans and investments in active transportation networks. When more people bike, walk, and roll, not only are the GHG emission reduction benefits clear, but also the health, mode-shift, and economic benefits as well.
Building on 2021 legislative progress
During the 2021 legislative session Washington Bikes supported HB 1099, a bill championed by our advocacy partners Futurewise. Unfortunately, the bill took some unexpected moves through the legislative process, passing through the Senate Housing and Local Government and Ways and Means committees, only to end up dying in the Senate Transportation committee. In a last attempt at getting part of the policy through the 2021 session, a proviso was approved in the final operating budget that funded the Department of Commerce to start the work on setting up the programs needed to implement the Growth Management Act climate change element that HB 1099 creates. The work of Futurewise and HB 1099's legislative champions have the bill poised to pass in the 2022 legislative session. Washington Bikes stands ready to help make this a reality.
Key components of HB 1099
HB 1099, prime sponsored by Rep. Duerr (Bothell – 1st LD) updates and modernization to the Growth Management Act will include:
Adding the goal of climate change mitigation to the list of goals within the Growth Management Act

Adding a climate change and resiliency element to the list of elements that must be included within the comprehensive plans certain counties and cities must adopt under the GMA.

Requiring the Department of Commerce (Commerce), in consultation with other state agencies, to publish guidelines that specify a set of actions counties and cities have available to take related to greenhouse gas (GHG) emissions reductions and vehicle miles traveled (VMT) reductions.

Requiring the climate change and resiliency element of the comprehensive plan of certain counties and cities to identify actions the jurisdiction will take, consistent with guidelines adopted by Commerce, to reduce GHG emissions and VMT.

Requiring the climate change and resiliency element of the comprehensive plan of certain counties and cities to address the adverse impacts of climate change on people, property, and ecological systems.
Stay tuned to hear more about the #WAshingtonCantWait campaign and how you can get involved to help make sure this landmark legislation passes. It's time for cities across Washington state to plan better for climate and multimodal transportation options.