A newly launched state DOT program allows communities across Washington to temporarily convert lanes of state highways into public spaces. These highway lanes can serve as "Main Streets" for the public to hang out, walk, pedal, roll or even dine outdoors–and some communities have already taken advantage of the program.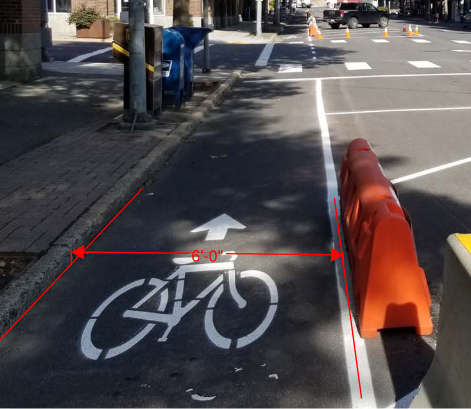 Walking, bicycling, and shopping on East Main Street in Pullman, Wash. will be easier and less stressful this summer, thanks to a new Washington State Department of Transportation (WSDOT) program. This program allows communities to temporarily convert lanes of state highways that run through downtowns into spaces for the public to recreate, stroll, roll, or even dine outdoors.
"We know pedestrians buy things. Cars don't buy things," Pullman City Council member Brandon Chapman told Oregon Public Broadcasting. "And the merchants can certainly appreciate this. People need to be able to walk around."
As in many rural communities, Pullman's Main Street is also a state highway with three lanes of traffic that barrel through town and make the downtown core less safe and appealing to people walking, biking, or shopping. But this summer, one of those lanes has been closed to through-traffic and converted to a bike lane and angled parking.
The goal of the WSDOT Safe, Healthy and Active Streets Program is to make it easier for patrons of stores and restaurants to spill out onto the sidewalk, help customers remain socially distant, and help businesses stay open during the pandemic. The program has been compared to the Stay Healthy Streets and Open Streets programs that cities and towns across the United States and in Washington have implemented.
"A number of communities across the state have already approached us about opening parking areas or lanes in their city's commercial district for increased open space and business access," said Secretary of Transportation Roger Millar in a press release. "We're pleased to collaborate with them to find safe solutions that work for all users of the roadway."
Options include temporarily closing a portion of the highway while maintaining at least one lane in each direction, or even a "complete highway reallocation" that closes a segment of highway for a short period, such as a weekend event, with traffic detours.
WSDOT will work with local city or county governments to identify, plan, design, install, and maintain the temporary highway reallocations, which are limited to 90 days of operation. WSDOT Active Transportation Division Director Barb Chamberlain says 458 miles of state routes are eligible for the program, and the criteria requires that the highways must be in downtown areas and have speed limits of less than 35 miles per hour.
For people who bike, this means more space for riding to get to local businesses.
"The WSDOT Safe, Healthy and Active Streets program is a much needed tool for communities during the COVID-19 pandemic. Existing space for people walking and biking is not enough when you factor in physical distancing needs," said Vicky Clarke, Cascade's Policy Director.
"The program is also an exciting opportunity to re-image Main Street's across the state. In many towns, cities and unincorporated areas across Washington, most major thoroughfares are also state highways. For communities who've long-imagined reclaiming a little bit of Main Street from through traffic, for better walking, biking, and local access to our beloved small businesses, here's the chance to experiment.
"And to advocates, I say, call your local council member, take a stroll through town with them. Imagine together how even just one lane of that state highway could better serve the local needs of the community – during the pandemic, and potentially beyond."
Chamberlain says other interested municipalities include White Salmon.
In Pullman, the trial program, which will run through September, cost less than $5,000 to implement, according to The Daily Evergreen.
Read More:
WSDOT Supporting Low-Stress Streets and Pop-Up Commerce on State Highways During Pandemic. Urbanist
Take Your Horse (And Bike) To The Old Moscow-Pullman Town Road To See The Changes Oregon Public Broadcasting
WSDOT will reallocate space on some state highways for walking, biking and commercial use during the outbreak. Seattle Bike Blog
New plan would close some highway lanes to traffic, open them to pedestrians. KOMO
WSDOT Press release
Steal This Idea: Washington DOT to Give Lanes Back to People