Advocates for better biking converged on the State Capitol in Olympia in January to engage their elected officials  and request support for legislation and funding for safe spaces to walk and bike across Washington. Read on to learn more about Lobby Day, and get involved with our 2020 priorities.
…………………………
Lobby Day 2020 took place during a fast-paced 60-day legislative session in Olympia. Washington Bikes' advocates met with more than 30 legislators from districts in Pierce, King and Snohomish counties.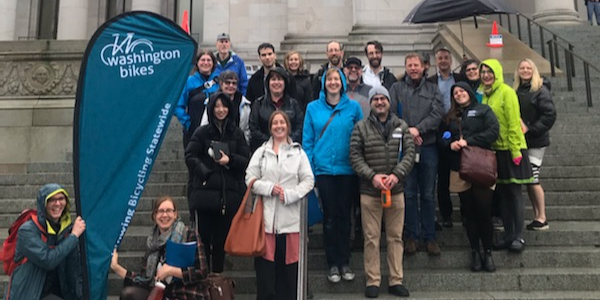 Community members spoke with leaders about the importance of investments in active transportation projects, advocated for the "Safety Stop" (a potential new law similar to the "Idaho Stop" to keep people on bikes safer at stop signs), and urged passage of a bill  to include health as a goal in transportation investments. 
Participants got to see the legislative process in action when, in the midst of Lobby Day, the Safety Stop bill went to the House transportation committee. Lobby Day participants had the exciting opportunity to sign on in support of the bill and watch committee proceedings. The Safety Stop bill, which allows people on bikes to treat stop signs as a yield sign, is priority legislation for Washington Bikes because it has been shown to sharply reduce injuries.
We are looking forward to finishing out the 2020 legislative session strong, and continuing to advocate for people who bike — or want to — throughout the year!