As the year nears its end, we wanted to celebrate some of the great successes for bikes in 2019. Here's to riding into a future that is even brighter for 2020!
Washington is the #1 bike friendly state for 11 years running!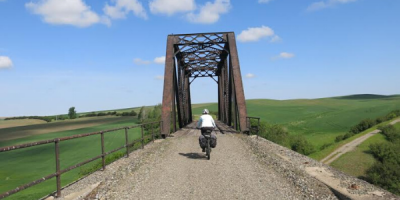 The League of American Bicyclists has released their ranking of bike friendly states, and for the 11th year in a row, Washington clinched the top spot. With improvements to safe passing laws, statewide Active Transportation plans, and investments in safe and accessible infrastructure, we are working to ensure that Washington remains the best place for people who bike!
2. The East Lake Sammamish Trail is finalized after decades of advocacy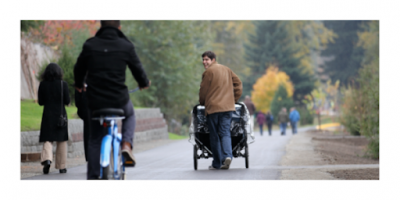 After decades of advocacy, the East Lake Sammamish Trail is being completed! For people who walk, bike, and roll, the completed East Lake Sammamish Trail provides a safe and connected path through the East Side, and marks the realization of a 20 year vision.
3. Our c3 affiliate Cascade Bicycle Club hosted the largest cycling event in the nation.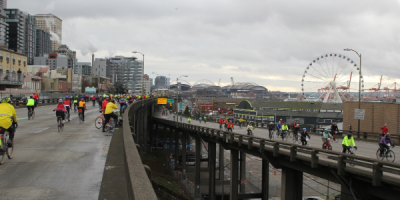 In February 2019, Cascade hosted the largest cycling event in the nation, with 12,095 riders participating in the one time Tunnel Ride. This ride was the first chance for folks to ride the new SR99 Tunnel and the last chance to ride the Alaskan Way Viaduct!
4. Seattle's Fremont bridge zooms past 1 million bike trips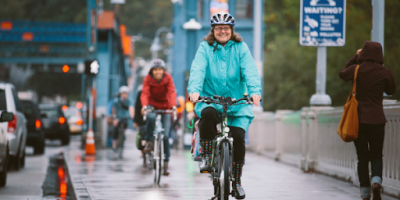 This year, the Fremont bridge saw the highest yearly bike ridership count ever! Over a million people biked over the Fremont Bridge before Halloween, and the numbers have steadily grown since. This new record points to a larger trend in Seattle – there are consistently more people on bikes!
5. Historic investment in trails: $810 million over the next 6 years.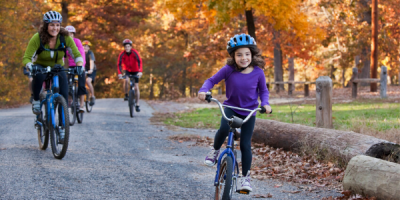 This election cycle, a supermajority of voters in King County approved a milestone funding package for trails. This funding will go towards trail connections on the Eastrail, Lake to Sound Trail, and local connectors across the county!
6. New Safe Passing Law to keep people on bikes safer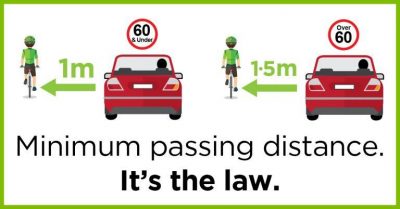 During the 2019 legislative session, Washington Bikes led the effort to pass legislation protecting the rights of people biking, walking, and rolling throughout the state. This resulted in the passage of the Vulnerable user/Safe passing legislation! This bill passed with bipartisan support, and increased protections for people who are vulnerable on the roadway.
7. Seattle City Council funds $10 million in SE Seattle bike infrastructure and makes huge advances in the Basic Bike Network
Earlier this year, advocates in Seattle made a stand to reinstate Southeast Seattle plans for bike infrastructure. Because of advocates' tireless efforts, during the 2019 budget session Seattle City Council set aside $10 million for a bike connection to Southeast Seattle. Advocates also ensured that SDOT expedited construction of vital downtown routes, connecting the area by bike and providing a center for larger Connect Seattle goals.
8. Seattle speed limits lower to 25 mph to advance Vision Zero goals
In keeping with a public commitment to reduce traffic deaths in the city, Seattle is lowering the speed limits on all city streets to 25 mph. This change comes from data that suggests that on roads where speeds dropped to 25 mph, there was a 35% reduction in crashes. This is a crucial step in Seattle achieving its Vision Zero goals.
9. Eighteen communities across Washington renew or update their Bike Friendly status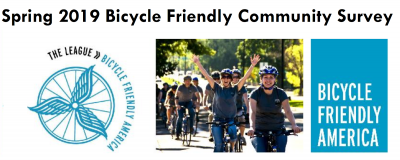 From Spokane to Port Angeles to Ellensburg, communities across Washington continued to prove their commitment to making life better for people who bike. In 2019 these bike friendly communities implemented bike infrastructure, Vision Zero policies, and public education to make biking safer, more accessible, and more fun to people across the state!
10. Funding for the Beverly Bridge connects Washington by bike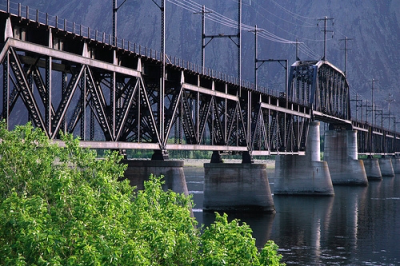 In April, the Washington State legislature approved funding to repair the Beverly Bridge. The previously closed bridge, which spans the Columbia River is a crucial link between the western half of the Palouse to Cascades Trail to the eastern half. Repairing this bridge allows trail users across Washington state to access the region by bike, and reinstates a historic connection.