While voters approved Tim Eyman's I-976 initiative, the majority of Washington Bikes' endorsed candidates won their race, which means we have bike champions across the state who we are counting on to defend bike and pedestrian funding.
Bike friendly leaders across the state
This year, Washington Bikes endorsed its most robust slate of candidates to date throughout Washington state. We are pleased to report that the majority of Washington Bikes' endorsed candidates are winning their races, with a couple too close to call ahead of the official certification, December 5th. Candidates names in bold are currently winning their races.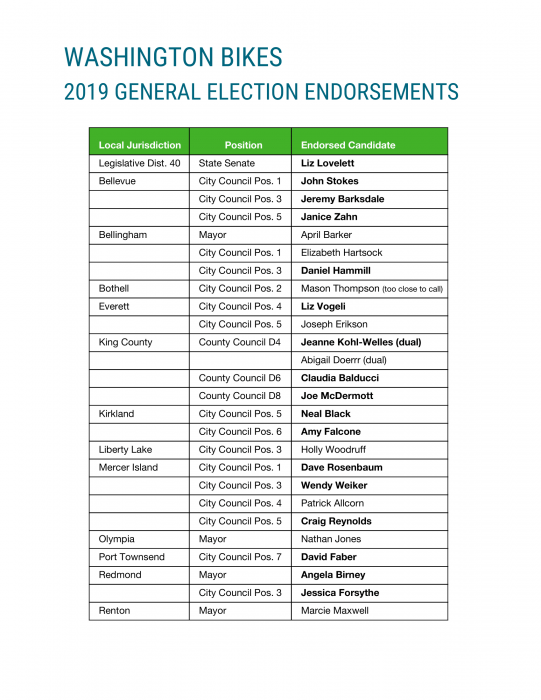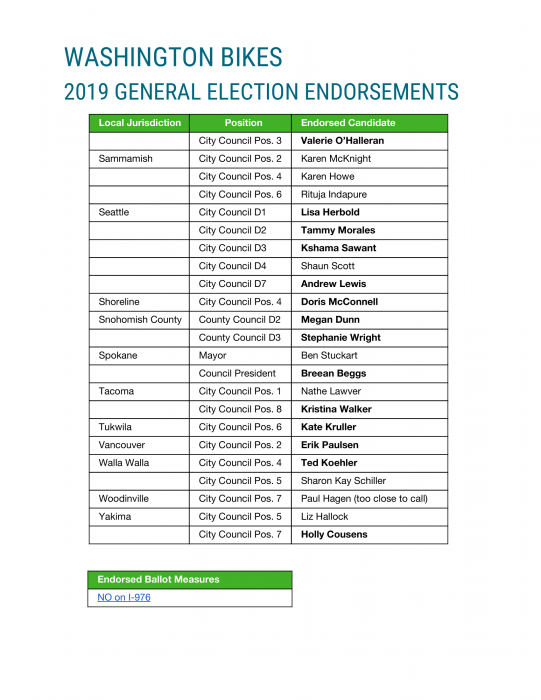 Washington Bikes looks forward to working with the newly elected and re-elected bike-friendly leaders and also thanks all endorsed candidates who ran for office, and articulated the importance of bike-friendly communities in their campaigns.
Future of funding for bike/ped projects at grave risk
Election day results delivered a huge blow to our vision of bike-friendly communities across the state. Voters approved Tim Eyman's I-976 initiative, which promised dramatic cuts to vehicle licensing fees. In turn, this result means vastly reduced funding for transportation projects delivered by both the state DOT and local communities statewide. It's clear the consequences will be far-reaching and include funding for bike and pedestrian projects. 
The state funds projects, big and small, to make biking and walking safer and more accessible all across the state through the Safe Routes to School and bike/ped grants in the state transportation budget. The historic Connecting Washington 2015 funding package also funded many important projects to connect communities by bike and keep us, our kids and our neighbors safe. Many of those important projects are now at risk.
We will share more information as we learn about the impacts of I-976. Here's what's clear: We will need you to help us protect the essential bike and pedestrian funding investments that our Washington leaders committed to, in order to make our communities safe. One place you can help advocate on behalf of bicycle funding at the state level will be Washington Bikes' Lobby Day in Olympia during the 2020 legislative session. Save the date for January 22!