The simple pleasure of a bike ride, every day. That's 30 Days of Biking, an international challenge, and it's time once again to make the pledge and plan to get rolling April 1 (no fooling).
The challenge: Whether you ride around your block, around town, or around the state, you just ride every day. Simple, right? For a little extra inspiration check our #BikeIt list and try a few things you haven't done before.
Get Social and Win
If you go for it we want to give you a little something. Use the form at the bottom to request your "I Arrived by Bike" cards you can leave behind at local businesses to help them appreciate bicycling customers. (After all, bikes mean business — a message that helps recruit new allies to support better bike connections in your town.)
If you're telling the world about your ride you'll be entered in a drawing to win a coveted Washington Bikes coffee mug or other goodies.
"Rules"
Trying counts: No, you don't have to complete all 30 days successfully to have a chance to win something from us.
Location and length don't matter: Every ride counts. Indoors, outdoors, short, long.
Share to enter: Be sure we see the sharing: Tag your post with #30daysofbiking and #WAbikes and/or comment here with a link to your blog post or other item.
Sign up to enter: If you sign up below to get the "I Arrived by Bike" cards, put #30daysofbiking in the Comments field and you're entered.
Blog to enter: Write a guest post for us with a progress report, story about an especially memorable ride, photo essay, video commentary — however you want to express the effects of committing to ride your bike every day.
Visit us to enter:

Seattle area: Stop by our Pioneer Square store, take a selfie or a picture with one of our staff, and share that with us and others. While you're there, check out our bike-themed gift shop and selection of bikey books; you probably deserve a little something for riding every day. (Especially good day to do this: April 2 #BikeLove Party.)
Spokane: Visit our booth at the Spokane Bike Swap April 11-12.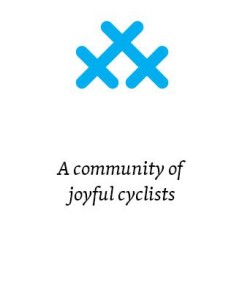 No matter how you accomplish it or how long you've been riding, 30 Days of Biking can give you new riding experiences and fresh perspectives on familiar routes.
Other Challenges to Watch For
Sign Up for Your Chance to Win
[Tweet "I'm riding #30daysofbiking w/@WAbikes. Join me."]
Your Turn
What would keep you from completing the challenge?
What can you do to overcome those issues? If you post them here we can all help you work through them.
Have you done this before? What was your experience?