On the evening of February 27 the House of Representatives passed E-Bike legislation (SB 6434) with 86 votes in favor, 12 opposed
Last summer, Washington Bikes began working with stakeholders and partners to begin crafting legislation to update Washington's e-bike laws to national standards, and in a manner that worked for Washington communities. SB 6434 (Sen. Rolfes) and HB 2782 (Rep. Kilduff) introduced at the start of the 2018 legislative session were the outcome of that work. Tuesday night, the Washington State Legislature passed SB 6434, sending the e-bike bill to the Governor's desk for signature.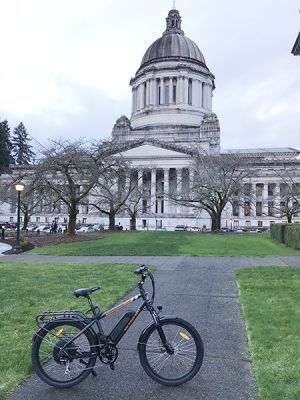 While innovation and demand in the e-bike industry are the reasons a statute update was necessary, interest was also strong among Washington state legislators. While developing and discussing the bill, we discovered four state lawmaker e-bike owners and we had the opportunity to introduce the innovative technology to many more legislators who are now interested in e-bike ridership and ownership.
This is exactly the impact we expect this legislation to have. More clarity for e-bike users, industry and local jurisdictions, while increasing accessibility for new and different types of people choosing to ride e-bikes. Now after strong bi-partisan votes for this legislation it's clear that Washington state legislators agree:
"I have a class 1 electric bike, we live on a very very hilly island… An e-bike shop opened up on the island, I decided to go on
a ride with a girlfriend who has bad knees and we had a blast. We weren't going over 20 mph, but it's pedal assist, so essentially you get a great workout, you can go up the hills that before were daunting…this can change your life, I'm in love with my bike"
Majority Leader, Senator Sharon Nelson (34th LD, Maury Island)
"This is a really fun bill, it will open up the world of bicycling to all types of users!"
Bill sponsor, Senator Christine Rolfes (23rd LD, Bainbridge Island)
"…Rising in enthusiastic support of this legislation and I do so as an e-bike owner and obvious enthusiast…If you have not personally taken one for a spin I commend it to you, I personally feel like superwoman when riding mine…E-bikes are here, I think the future is largely electric, this bill conforms with what is going on in the market…and I urge your support!"
Bill sponsor, Representative Christine Kilduff (28th LD, University Place)
Now the bill is headed to the Governor Inslee for signature, likely in the coming month. It's been a great ride. Our sincere thanks to primary bill sponsors, Senator Rolfes and Representative Kilduff for their leadership throughout the 60-day session. Also, thanks to Senators Curtis King (14th LD, Yakima), Rebecca Saldaña (37th LD, Seattle) and Representative Mike Chapman (24th LD, Port Angeles) for their work on crafting improvements to the legislation.
Ultimately, this legislation is about giving more people more options and the freedom to get out on a bike. As the legislators above noted, e-bikes open up a world of possibilities, particularly to the 60% who would like to bike but feels limited in some way.
Washington Bikes works to make bicycling better in Washington state. It doesn't happen without you. Make a donation today to support the legislative work that made this bill possible!