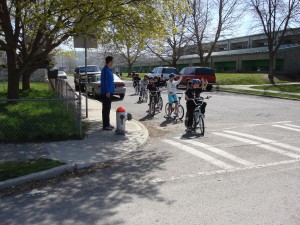 It's time to train the next generation of bike riders!
The Office of Superintendent of Public Instruction (OSPI) is accepting grant applications from eligible school districts for its Safe Routes to School Bicycle and Pedestrian Safety Education Program. Up to 20 qualifying school districts will receive grants that deliver teacher training, curriculum, bikes and educational materials, and technical assistance.
These grants equip school districts with the tools they need to teach bicycle and pedestrian safety education to students in middle school grades. Washington Bikes provides the teacher training and technical assistance under the grant.
Over 40 Washington school districts have participated in the Bicycle and Pedestrian Safety Education Program to date, teaching safe biking and walking skills to 15,000+ middle school students annually. La Center is training the next generation of cyclists thanks to the Bicycle and Pedestrian Safety Education Program. So are Tumwater and Reardan schools.
Would you like to bring this program to your community? Now is the time to apply! Applications must be submitted by the school district via iGrants Form Package 552 by December 3, 2015. Application period has been extended to January 21, 2016. Questions about the grant and grant process can be directed to Sarah Sullivan at sarah.sullivan@k12.wa.us or 360-725-6050.
To ensure eligibility, districts must have developed walk route plans and offer physical education classes at least once per week at the middle school level. Support is available to create walk route maps. Contact Sarah if you would like more information about this.
Funding for this project is provided by the Washington State Department of Transportation. It is managed by OSPI, and made possible through partnerships with Washington Bikes, Feet First, participating school districts and their community partners.