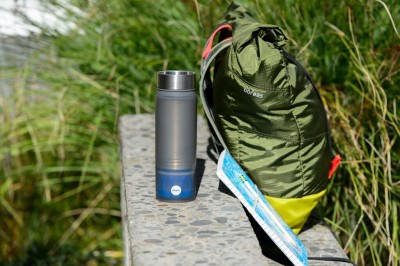 Staying hydrated is important when you're on a bike ride. You don't have to be a mountain biker or an adventure bicycle traveler to care about the water you drink while out on a ride. We want to introduce you to a personal water treatment product that is practical, portable and good for bicycling (more about this later): the GRAYL cup.
GRAYL, a Seattle startup company, makes a line of unique personal water filtration and purification systems.  The patent-pending design works like a French Press to filter toxins from water in seconds.  GRAYL makes water treatment for every occasion, whether that be at the tap or a campground water pump, creek side on a mountain bike trail or gravel grinder, or when facing the rigors of international travel.
The GRAYL cup has interchangeable filters to provide varying levels of protection. TAP removes many chemicals and heavy metals, TRAIL adds protection from bacteria and protozoan cysts, and TRAVEL provides the added from viruses while traveling in developing countries or highly impacted wilderness areas. The TRAIL version will appeal to mountain bikers, gravel grinders, touring cyclists and others who venture into remote outdoor areas because it gives you the option to pull your drinking water from creeks, stock watering troughs and other unfiltered water sources. Visit GRAYL's FAQ page for more info, including a video on how to use the cup.
The company has had a great ride so far, including winning the first episode of All-American Makers on the Science Channel earlier this year, and one of GeekWire's "Seattle10" Most Innovative Startups at the end of 2014.
Travis Merrigan, COO & co-founder of GRAYL, has been riding bikes for 15 years in several large US cities. He commutes via bike almost daily across Seattle from his Columbia City home to GRAYL's Phinney Ridge office. His wife also rides – they rode the 2014 Seattle-to-Portland on a tandem while his wife was 4 months pregnant!
Travis says, "I love to take my GRAYL on mountain bike or urban adventure rides. I can ride for hours, filtering water from trailside streams or lawn sprinklers (try it sometime, ha!). Seattle is a wonderful city to bike – don't fear the hills!"
GRAYL Gives to Bikes
Did you read our blog post Bikepacking the John Wayne Trail? Author and cyclist Sara Callan used a GRAYL cup on her tour and recommends the product. In a testimonial Sara said:
"We took the GRAYL on our yearly 4-day bike trip, and we were so glad that we did. The west end of the John Wayne Trail is dotted with a handful of backcountry camp sites, but no running water anywhere. Lucky for us we had plenty of mountain creeks and the GRAYL! It turned out to be our one source of clean water to keep us going through our tour. Cheers to GRAYL!"
Now you have an opportunity to purchase your own GRAYL cup and help grow bicycling in Washington state.  For each online GRAYL purchase by a Washington Bikes supporter, GRAYL will donate 5% of the purchase price to us to support our mission. Be sure to enter the promo code WABIKES when you place your order.