Today's ride post was written by Seattle cyclist Lee Nathan. The post first published on his personal blog Tenacious. You can also find Lee on Twitter @tenaciouslee.
Back in June, we took a bicycle tour of North Kitsap Peninsula, amounting to about a 40 mile ride. We've been getting ready for the STP bike ride, so this was one of a slew of training jaunts, but this one was memorable due to some nice views and challenging hills!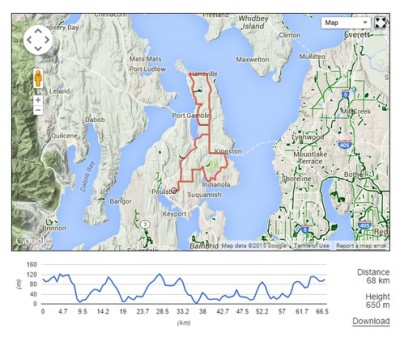 We started and finished at Poulsbo High School. Since we live in Seattle, we had to first get over to Kitsap County, so we took the Bainbridge Ferry across the Sound. Summer ferries can be tricky if you're in a car due to the heavy volumes, especially over weekends as people look to escape from the city for a few days, but biking on is always nice – no waiting! We were one of the first groups of bikers to arrive for the 8am ferry over, successfully navigating our way across the Rock 'N Roll Marathon course complete with thousands of runners!
We cheated a bit and caught a ride with a friend from the Bainbridge Ferry Terminal. We could have ridden that stretch, but we were on a bit of a time crunch and that section isn't the most scenic out and back along the highway.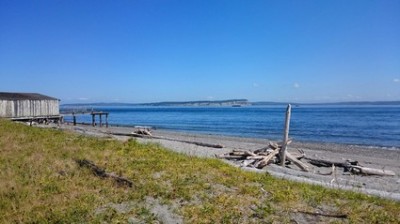 From the PoulsboHigh School, we headed North, picking our way around Indianola, through Kingston, and up towards Hansville. The ride was pretty quiet with limited traffic. Early in the ride, we had no problems with a gentle climb heading towards Kingston, and then another gradual hill as we climbed up to the high point around mile 17.
We dropped into Hansville, and were rewarded with some impressive views of Puget Sound spreading in front of us. This was about halfway through the ride, so we stopped at Point No Point in Hansville to fully appreciate the scenery and refuel.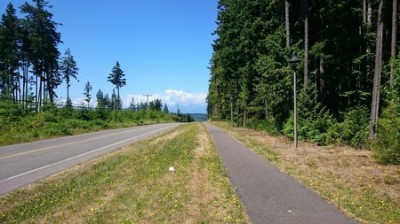 From the park, we continued rolling through Hansville, heading west and south and back up! You're rewarded with views to the west, Port Gamble and the Olympic range beyond. There are a few rollers on those roads as we headed back towards Poulsbo, and one particularly punchy hill (11% grade, but only 0.1 mi long) on the appropriately-named NE Cliffside Road and one final major climb up NE Little Boston Road. After some huffing, we stopped to catch our breaths and enjoy the view behind of us, this time gazing at the Olympic Range to the West.
From here, we followed Gamble Bay Road and Stottlemeyer Road back to Poulsbo. After a few rollers, we were back at the high school. We got back to the car just as the crowd was starting to arrive for the graduation ceremony going on that afternoon at the stadium. We enjoyed a well-deserved lunch at the Loft at the Poulsbo Marina before catching a ride back to the Bainbridge Ferry Terminal for our trip back to Seattle. One more biking leg got us back home from Colman Dock in Seattle. Phew! All in all, it was a great bike tour!
Route details can be found here.
Write Your Ride!
Do you know of a great bike route that others might enjoy? Submit it using our Write Your Ride form and we'll share it.