Thursday was the last day of the Washington State Legislature's thirty-day special session called by Governor Jay Inslee to resolve the outstanding disagreements on budgets and policy matters. Those disagreements didn't get resolved. Now what?
At Thursday's close of the 30-day special session, the Washington State Legislature still lacked agreement on several key items to get the state ready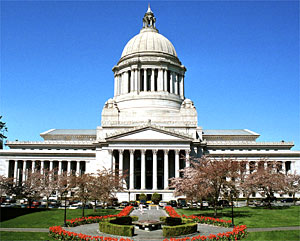 for its new budget year beginning on July 1.
Since Governor Inslee has now called a new special session to begin today, here are some issues to watch out for as the State Legislature continues to resolve its differences.
U.S Open Golf Tournament
What? Because the Washington State Legislature will now likely meet into June, logistical problems will arise as all the hotel rooms in Olympia are booked for the U.S Open Golf Tournament held near Tacoma. This means that lawmakers will have no place to stay during the mid-June golf tournament, costing precious days leading up to the June 30 deadline and the start of a state government shutdown on July 1. Some reports are suggesting a June 15 deadline to get done before the golfing begins and the hotels disappear.
2-Year Transportation Budget
This is always confusing. There's a two-year (biennial) budget passed every odd-numbered year, and there's the thing that everyone is talking about right now: a 16-year transportation spending package proposal. The two-year transportation budget appears to be one of the most significant accomplishments of the first 30-day special session because on Thursday the Senate unanimously passed the same negotiated transportation budget agreement that the House passed Wednesday on a largely bipartisan vote.
This two-year transportation budget isn't ideal. On face, it represents a decrease in funding for both the Safe Routes to School and Bicycle and Pedestrian Safety Grant Programs. This means 11 Safe Routes to School projects in places like Bellingham, Lakewood, and Seattle won't get funded. Still, any boost to the two-year budget would only be a stopgap for a long-term source of funding via a state transportation revenue spending package that could significantly increase Safe Routes and Bicycle and Pedestrian investments statewide.
Multi-year Transportation Spending Package
A bipartisan agreement on an additive transportation spending package that spends over $10 billion across 16-years remains highly uncertain. Conversations between House and Senate negotiators reportedly continued throughout the special session, but several issues are tied directly to negotiations with the General Operating Budget. Additionally, voices – both pro and con – have been arguing the merits of new taxes for a package that would largely be devoted to new roads across Washington state.
Washington Bikes continues to advocate for important multimodal investments in biking, walking, and school safety, if a package is passed. Right now there is a razor thin margin for error because biking and walking spending is relatively low compared to the overall size of the package, even in the House proposal. For more information on those investments, check out this overview. Also, write your legislators today to let them know how important biking and safety investments are to you.
Capital Budget
Also still outstanding is a two-year capital budget that contains several policy issues and investments that affect bicycling statewide. Most notable is the Washington Wildlife and Recreation Program (WWRP), which contains the ever-important recreational trails program that is poised to fund trail segments for the Foothils Trail, Olympic Discovery Trail, Ferry County Rail Trail, and potentially the Whitehorse Trail. As with all biking and walking investment requests statewide, this funding program is heavily oversubscribed. Senate and House proposals for WWRP differ, so we continue to wait and see the latest negotiated proposal in the upcoming special session.
Operating Budget
Education, revenue, tax exemptions (or ending them), and many other critical policy and philosophical differences remain. Most believe that agreements need to be made on the Operating Budget before agreements on the Capital and Transportation Spending Package can proceed. In short, the operating budget is the lynchpin for most everything else.
Stay tuned as the action begins again today. While the second thirty day session is scheduled to last until June 26, there's always a chance for a third special session lasting until the final day of June!