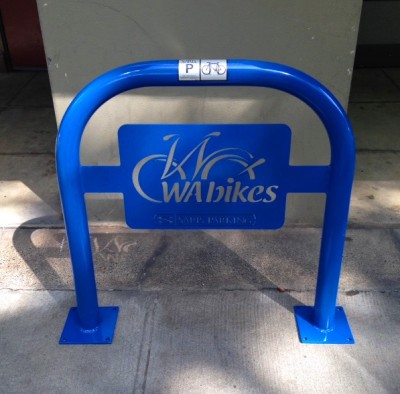 May is Bike Month and Washington bikes! In celebration, we are raffling off this unique bike rack that proclaims our (and your!) love of biking.
Saris has generously donated this eye-catching bike rack for our raffle. Park bikes in style in your garage, at your condo or apartment, at your workplace, school, or more! You can even spread the bike love by donating the bike rack to your local library, your favorite watering hole, wherever you know there's a need for bike parking.
Raffle tickets are $10 each and you can use the form in this post to purchase your tickets online. We will also be selling raffle tickets at the upcoming Bike Month Happy Hour in our Pioneer Square office. Raffle proceeds benefit growing bicycling in Washington state.
Tickets will be on sale through May 31 and we'll announce the lucky winner the first week of June. Saris will ship the bike rack to the raffle winner.
I want to win this bike rack!
RAFFLE CLOSED