A big thank you goes out to members of the Spokane Bicycle Club and two excellent bike mechanics from North Division Bicycles and Wheel Sport. Last weekend they took a few hours of their day to tune up the bicycle fleet used by Reardan-Edwall School District to teach the Bike and Pedestrian Safety Education Program.
These 32 bikes go through a lot in a school year. Each bike gets used by dozens of middle school students who learn bike handling skills and traffic rules. It is not unusual for a class to have a few students who have not yet had the opportunity to learn how to ride. These bikes help teach the next generation how to be safe, learn a lifelong skill, and have more transportation independence.
It is essential to the longevity of the program that the bikes are safe and keep rolling. Every season before students ride the bikes, 64 tubes need re-inflated, 32 chains need cleaned and lubed, 64 brakes need tested, 128 brake pads may need adjusted, and 32 derailleurs need checked out and tweaked. That's a lot of parts to look at!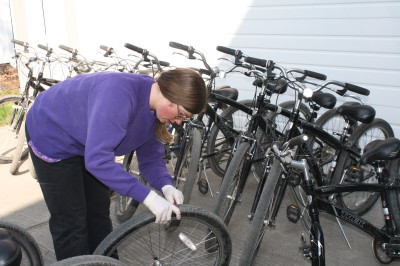 In many districts, all this is done by an amazing teacher or staff person at the school, all out of the goodness of their heart and dedication to helping kids ride bikes. In some districts, when they have the funds, a bike shop is hired to maintain the bikes. And a few places have community groups like Spokane Bicycle Club who volunteer to tune up the bikes.
Eight Spokane Bicycle Club members and two excellent bike mechanics from our sponsors, North Division Bicycles and Wheel Sport came together on a Friday to tune up the bikes. The mechanics from North Division and Wheel Sport were an essential addition to the Spokane Bicycle Club volunteers. They helped in tackling bicycles needing repair that were beyond "backyard mechanic" skills.
Garry Kehr, the president of SBC, provided these thoughts:
"Spokane Bicycle Club believes in being a contributing part of a larger community. Specifically, we believe in the mission and work of Safe Routes to Schools, including efforts in Spokane like Walking School Bus and Walk, Bike, Bus programs that encourage more youth and adults to walk and bike for transportation. These program train young parents and kids that walking and bicycling are safe, healthy and fun. Ultimately we all get a pay back in a cleaner environment, less traffic congestion and a healthier population that puts less strain on the medical system. Additionally, doing these kinds of community projects helps our club be a closer and more vibrant club. We all win by supporting one another."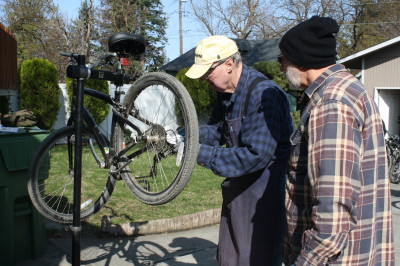 This community support is a great asset to schools around the state and the whole bike movement. More and more community groups are coming together to support bike programs as more school districts have bike fleets and teach bike safety skills. Thank you Spokane Bicycle Club.