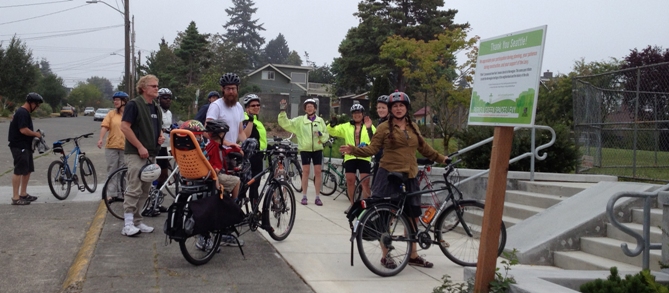 Today's post was repurposed from Sustainable Ballard, a Seattle neighborhood group that educates, inspires, and engages neighbors to take action to live more sustainably both individually and collectively. This post, which originally ran on their blog in July 2013, describes a bike ride that explores the Seven Wonders of Ballard by bike.
Sixteen intrepid cyclists, ages 3-65, and one pooch set off to explore the seven wonders of Ballard on a July morning in 2013.  Our tour leader, Jean, set an easy pace as we explored the local area.  Along the way we discovered that four riders lived within two blocks of each other, and all got to know their neighbors and neighborhood a little better.
Our First Stop was Kirke Park, the newest park in Ballard, where we learned that the religious group that established the property had once lived quite independently, growing their own food and maintaining the buildings themselves.  Groundswell NW worked with neighbors to get this property purchased by the city in 2008 and construction began in 2011.  Features include: community picnic area, play area, orchard, p-patch gardens, and a community garden.
Our Second Stop was the totem pole at Baker Park, another Groundswell project.  Jenny (our sweep) told us that this park was originally a tree nursery and the totem was carved on site by native carver Fred Louth of the Haida tribe.  The tree was a dying monkey puzzle and the feature animal in the totem is the native tree frog.  A few years after being carved the totem pole began to rot at the base, so it was cut and mounted on a concrete base.  The park is maintained by the Whittier Heights Neighborhood Council and the wildlife garden is maintained by the next door Montessori school.
Stop Three was the Ballard P-Patch and site of the Annual Art in the Garden event.  The P-Patch features a beautiful community-built picnic area and entry arch, many well-established gardens.  The nearby parking lot belongs to Our Redeemers Lutheran Church and was at one point the location of Tent City3, a portable, self-managed community of up to 100 homeless people.
At Stop Four, we inspected the stairs that climb up the steep hill from Golden Gardens all the way to 32nd Ave NW & NW 85th.  Stair climbers that day got cheered by an appreciative group of Seven Wonders cyclists.
Stop Five was the incomparable Sunset Hill Park which has a sweeping view of Puget Sound – except that day when the view was completely socked in.  Tour members shared that a nearby tree had been site for an eagle's nest in the recent past.
At Stop Six, we visited the Nordic Heritage Museum and viewed an authentic Viking Ship!
This ship is a central feature of the Viking Days celebration held in August.  This two-day festival bursts with Nordic food, music, demonstrations, crafts, and a Viking Encampment.
Our Final Stop was the oldest church in Ballard, the Interfaith Church, and the historic landmark there showing its building date as 1892!
It was a great day for biking – cool with a slight drizzle and we completed the tour in about 1 1/2 hrs.  We know there is more to explore in Ballard, and biking is a great way to do it! You can view the Seven Wonders of Ballard route map here.
Keep your eye on Sustainable Ballard's project page for upcoming tours.
Write Your Ride!
Do you have a favorite local ride that you'd like to share with others? Then Write Your Ride! Use our form to submit details about your ride, including a photo, and we might use it on our blog.