We can't let this Internet meme pass us by. When Seahawks defensive lineman Michael Bennett took a celebratory spin after the Seahawks nailed the NFC championship January 18, he thrilled the hearts of riders everywhere.
"@AthIetePosts: on my way to the Super Bowl like https://t.co/EPptNXFf2b" WA is REALLY #1 Bicycle Friendly State! #GoHawks @mosesbread72

— Washington Bikes (@WAbikes) January 19, 2015
Michael Bennett riding Seattle PD bike on field postgame."I just took it. U go to the Super Bowl you can do anything in this city" #Seahawks

— Gregg Bell (@gbellseattle) January 19, 2015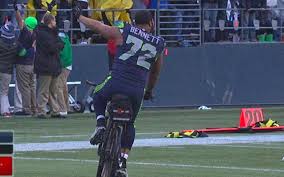 This was no one-time thing, either. Bennett owns three bikes and rides regularly.
The Seattle Police Department's Twitter account manager tweeted an awesome response to the moment:
Just bring the bike back before #SuperbOwlXLIX @mosesbread72 🙂 pic.twitter.com/Pu0IwOXm85

— Seattle Police Dept. (@SeattlePD) January 18, 2015
Fans Photoshopped Bennett into classic bicycle movie moments, from carrying ET on a front basket to riding through the "Wizard of Oz" tornado.
Bennett did it again as the Seahawks prepared to take off for the Superbowl:
Bennett and the Seattle Police Foundation have worked out an arrangement that will allow the actual bike he rode to be auctioned off to benefit Bennett's OCEAN foundation and the SPF. The program founded by Bennett (led by Hawaii Optimum Performance and St. Louis School) puts on a camp that aims to "fight obesity through community, education, activity and nutrition."