Airport makes improvements, but the ride is not for the faint of heart
Guest blogger Lisa Enns is a Seattle cyclist earning a Master of Urban Planning from the University of Washington.
Last year, I was on a team of students that produced a Bicycle Facility Plan for Seattle-Tacoma International Airport. I had heard that the airport was starting to make some improvements, and I wanted to check them out.
Getting to the airport is a little bit stressful. You can check out my bike route here. That said, I'm the slowest person on Dexter every day, and the worst part for me was the hills, not the traffic and roadway infrastructure. You do have to be comfortable taking the lane, as there are a few four lane roads with no bike lanes.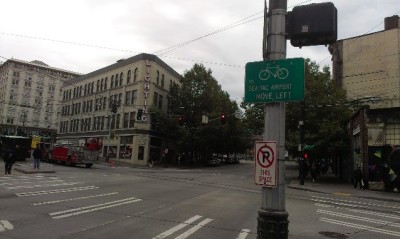 My journey started in downtown Seattle. I'd seen one lonely "to Sea-Tac Airport" sign downtown.  I ignored it, because I had no idea where it pointed to (After a bit of street view sleuthing later, I found that it points you through the International District and onto Airport Way.) and utilized Google maps to pick a route. I took the West Seattle Bridge to the Duwamish trail, and then up through residential neighborhoods in Des Moines and Burien.
The worst part was climbing the hill. I came through Des Moines on 24th Ave S, which has bike lanes. It dumped me out on Air Cargo Road, a four lane road with no bike lane, sidewalks, or shoulder. Luckily traffic was light enough that everyone could go around me easily. International Blvd was no picnic either, but it at least had a bus lane that I could use. The Port of Seattle doesn't control roadways in the surrounding jurisdictions, but they have been considering adding bicycle facilities on the roadways under their control. A few bike lanes or separated paths would make the connection much easier. There are already bike lanes on S 154th St, connecting to Burien, but they end at 24th Ave S.
Google maps is now reporting the information we gathered when producing the bike plan — the best (and possibly only) way to access the airport from the north is through the light rail station and parking garage. If you're coming from the south, you have a much nicer, quiet ride up Air Cargo Road and through the tour bus loading area.
[Tweet "Work by @UW students on biking to @SeaTacAirport now in @GoogleMaps."]
At the Airport
[Tweet "Check out bike repair stand, @sportworksracks #bikeparking at @SeaTacAirport."]
Once you get past all of the hills and traffic and want to park your bike, there are much better options than there were a few months ago. There are new, high quality bike racks in the parking garage by the northernmost sky bridge. The old racks were not bolted down, and did not allow you to securely lock a wheel and the frame with a U-lock. There are new bike racks at the south entrance as well, as opposed to the old wave racks.
For the hard-core bike tourist who is taking his/her bike on the plane (or the airport employee who needs a quick tune-up), there is a maintenance stand in the baggage claim area, near the middle of the airport. This makes it easier if you're planning on taking apart your bike and checking it. You can buy a bike box at Ken's Baggage on the baggage claim level — I'd recommend calling ahead to make sure they have one available.
Bike racks inside the terminal, on the baggage claim level  by the maintenance stand, may provide a longer-term storage solution if you're leaving your bike at the airport. Currently, there is no signage regarding longer term bike storage, but it should be up in a few weeks. Ken's Baggage will store your bike for around $12/day if you want a super secure solution.
[Tweet "Yay for new bike repair stand, #bikeparking options at @SeaTacAirport!"]
For the general public, riding a bike to the airport for a routine trip, with luggage is a bit of a stretch unless you are an avid bike tourist or live close by. The real benefit that I see is for employees. The airport employs around 17,000 people, making it a fairly large regional employer. A fair amount (17.8%, according to 2012 American Community Survey Data) live in the immediately adjacent zipcodes, making a bike commute a short one. Driving to work at the airport may be expensive, and odd shifts may make taking the bus a challenge. As a large regional employer, Sea-Tac has a responsibility to provide different commute options for its employees. If they continue to implement elements of the Bicycle Facility Plan, Sea-Tac is well on its way to making bicycling an attractive option for getting to the airport.
[Tweet "Bike access, parking upgrades at @SeaTacAirport good for workers & tourists."]
Check the airport's Bicycle Resources page for more information.
* * * * * * *
The Bicycle Facility Plan was prepared by the Sea-Tac Airport Bicycle Access Studio, a specialized graduate course in the Urban Planning department at the University of Washington. Students in this course performed the role of a small consulting firm. In early 2013, Prof. Dan Carlson with the University of Washington, Steve Rybolt, Environmental Management Specialist, and Leslie Stanton, Manager of Environmental Programs, in Aviation at the Port of Seattle, and Barb Chamberlain, Executive Director of Washington Bikes, initiated conversations about bicycle access to Sea-Tac. Those conversations eventually led to the formation of this studio as a part of the Master of Urban Planning program at the University of Washington.