1) Ride the new north bank section of the Spokane River Centennial Trail 
This newly completed missing link on the north bank of downtown Spokane through Kendall Yards gives you access to stunning views of the Spokane River falls under the Monroe Street bridge, It's worth it for the ride alone because you can now ride a great loop of trail all around the river through downtown and Browne`s Addition.
You also want to ride this for easy access to some great new restaurants:
You'll pass the bike-friendly Elk Pub in Browne's Addition with its big multi-bike parking spot out front. Vegetarians, try the black bean burger.
Start this ride from anywhere along the trail in downtown. Riverfront Park's Rotary Fountain makes a great spot to cool off with a quick dash through the spray and you can hop on the nearby Looff Carousel for a grab at the brass ring.
Key resource: Centennial Trail map (While you're at it, you might donate a few bucks to Friends of the Centennial Trail for all their work over the years to develop this fantastic connection through the heart of Spokane that runs all the way to Idaho, where it connects with the North Idaho Centennial Trail)
2) Ride Your Mountain Bike 24 Hours Round the Clock May 24-25
This team relay mountain bike ride will be held May 24-25 this year. The experienced race organizers at Round and Round Productions say, "Anyone who can ride a bike can do this….your team decides how many laps each person does…one or a whole bunch. So bring your camping gear, bike gear and whatever else will keep you going for 24 hours… then come on out and get dirty with us!"
3) More Mountain Biking: Beacon Hill & Camp Sekani, Mt. Spokane & Riverside State Park
Did we mention Spokane makes an awesome base camp? There are abundant reasons that Outside magazine ranked Spokane one of the top 18 towns for outdoors enthusiasts. (Note: You'll need a state Discover Pass to park a car at trailheads in Washington State Parks. The fee helps fund state parks facilities, including parking. Bike there? It's free.)
Imagine hopping onto single-track just a few miles from the heart of downtown Spokane — or a few minutes from the heart of downtown if you head downstream to Riverside State Park. Climb hills or mountains and enjoy the pine scent.
The Eastern Washington chapter of the Evergreen Mountain Bike Association (formerly the Fat Tire Trail Riders Club) has worked on the Beacon Hill trails — 30 miles of trails through 1,000 acres of public and private property — for years. Get out and enjoy the fruits of their labors, and consider throwing in some volunteer time to help make the trails even better. Riverside State Park has 50 official miles in 10,000 acres — go get away from it all.
Key resources:
4) South Hill Four Parks Loop
Thanks to the Olmsted Brothers, all of Spokane boasts beautiful neighborhood parks, so you can ride your bike to any/all of them. One loop offering food stops and a nice mix of park environments: On the upper South Hill you can ride a mix of quiet streets and bike lanes connecting Comstock, Cannon, Manito, and Lincoln Parks.
Start from any of these or, more strategically, start at The Scoop and finish there with ice cream!
On Mother's Day Manito will be packed — everyone seems to think (and rightly so) that taking Mom to enjoy beautiful flowers is a great way to celebrate her day. On Labor Day you'll want to start/end at Comstock Park to hear the annual Spokane Symphony concert (Sept. 1, 2014).
Great features of this loop:
Key resources:
5) Ride Your Bike to Artfest May 30-June 1, 2014
… because a bike is the only vehicle that makes sense in the narrow streets of historic Browne's Addition when it overflows with thousands of people who love art, music, hands-on art for kids, and kettle corn.
This year Spokane's Artfest will be held May 30-June 1, 2014. While you're there you can also check out the MAC, the Northwest Museum of Arts and Culture, which puts on Artfest.
6) The Next Weekend, Ride Your Bike to Elkfest June 6-8
See above — over 10,000 fans of this free indie music fest make bikes the right way to get there and listen. Now in its 10th year it's Spokane's biggest block party, held June 6-8, 2014, in Browne's Addition — a historic neighborhood named one of America's Great Neighborhoods in 2009 by the American Planning Association.
7) Ride the Centennial Trail from Spokane or Spokane Valley to Liberty Lake
Depending on where you live or where you're staying as a visitor, two great options:
From Spokane: Start anywhere on the trail in downtown and ride all the way to Liberty Lake and back.
While you're at it see if you can spot all the pieces of public and private art along the trail. You'll rack up art points big time if you stop in at the Jundt Art Museum on the campus of Gonzaga University (look for its copper spire on the north bank), and check out the sculptures on the Riverpoint campus operated by WSU Spokane right across the river (south bank), both on the east end of downtown.
From Spokane Valley: Rally your friends at Mirabeau Park and go from there (maybe check out Discovery Playground, the multi-sensory accessible play place for people of all ages and abilities). It's about 14 miles round trip from Mirabeau to the Starbucks in the shopping plaza you'll see just after passing over I-90 — or for more local flavor, the Twisp Cafe & Coffee House just a little bit farther along Appleway.
You can also head into Liberty Lake proper and check out their trails and parks. The Spokane Symphony plays an outdoor concert in Pavilion Park each Labor Day weekend; in 2014 it's on Aug. 30, the day before their Comstock Park concert.
Key resources: 
8) Summer Parkways June 18, 2014
That four-park loop we recommend above? Check out a piece of it with the annual Spokane Summer Parkways June 18, 2014, when people-powered movement takes over the city streets. This Ciclovia/Open Streets event brings out grandmas and grandkids, strollers and scooter, unicycles and hula hoopers and a Zumba class or two along the way. Oh, and did we mention lots and lots of people on all kinds of bikes?
The streets are shady, the neighbors bring out lawn chairs to wave at you as you pass, and you'll find lots of information tables in the park staffed by volunteers interested in helping you find fun, healthy, and interesting things to do in Spokane. (Look for the WA Bikes booth and say hi!)
Summer Parkways is holding a street party at Corbin Park July 18, too.

9) Spokefest Sept. 7, 2014
This family-friendly fall ride (and Spokane's largest bicycling event) offers loops of various length from the one-mile "just getting rolling" flat route and bike rodeo in Riverfront Park to routes of 9, 21, or 50 miles. This year it takes place Sept. 7, 2014.
The stunning Spokane Falls loop takes you along the route for Bloomsday, Spokane's iconic road race, where you'll see gorgeous fall colors (and ride up "Doomsday Hill"–but hey, those runners do it and they don't have a granny gear). The ride ends at Riverfront Park, where volunteers watch your precious while you cruise through SpokeFair (say hi to the WA Bikes booth!).
The Spokefest Association uses proceeds from the ride to make grants to nonprofit organizations helping improve bike safety in the Spokane area. Here's a look at a video with scenes from 2008 (first year) & 2009.
We love our fests: Noticing a trend in community event names? Artfest, Elkfest, Spokefest. Spokane has Hoopfest, too — the biggest 3-on-3 basketball tournament on Planet Earth. Ride your bike downtown June 28-29, 2014, and check it out; with 250,000 players, cheering family members, and spectators, you won't find a parking place anywhere nearby.
10) Inland Northwest Ale Trail
This map of microbreweries developed for drivers will guide you from sips to suds and from Washington to Idaho and back again. We hope to bring the bike-friendly version to you soon.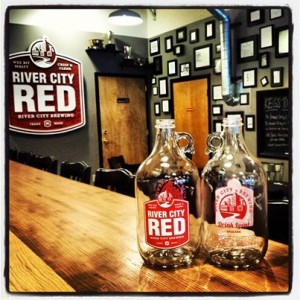 The Ale Trail extends beyond Spokane to Airway Heights (close to Spokane), Pullman, and Republic, and into Idaho to Post Falls, Coeur d'Alene, and Ponderay. For a day trip loop around a few of them (make sure you stop at River City Red in Spokane's Carnegie Square and say hi for us — owner Gage Stromberg has supported Spokane bicycling events and organizations for years and authored a great op-ed piece on bikes in the Spokesman-Review in 2013). For a full-on tour of the trail pack your bags (and you may want a copy of Cycling Sojourner Washington for its how-to chapter on planning a bike tour).
11) Bonus: Check Out Local Clubs, Rides, & Races
Spokane Bicycle Club: Open to all ages and abilities, SBC organizes recreational rides with a variety of length, pace, and day/time options. Members are essential volunteers at Spokane events such as Bloomsday, where they run the bike corral at packet pick-up, and are tapped to help with bike events like Summer Parkways, Spokefest, and the new Commute of the Century.
Spokane Bikes: Not a club, this group of volunteers puts together the annual Bike to Work Week celebration each year. Get in touch if you like putting on great parties and motivating others to get out there and ride.
Ladies only: Belles and Baskets goes on low-key, y'all-come rides twice a month, usually on second Sunday afternoons and fourth Tuesdays after 6. Rides always, always start/end at a place where you can sit, talk, and eat/drink/be merry. They hold a special Spokefest preview ride men are welcome to join; the rest of the time this one is women-only.
To get updates on rides become a fan of the Belles and Baskets Facebook page or join the Yahoo group.
Ladies only: WOW Women's Cycling, a membership club, shares information through its email list; contact wowcyclingspokane@gmail.com for updates. They post very rarely on their Facebook page.
Baddlands: This racing/recreation club puts on the Twilight Series of Spokane bike races throughout the summer and offers a variety of group rides around Spokane County.
River City Red: Cycling team sponsored by the brewery
Spokane Rocket Velo: This racing/recreation club organizes the challenging Ronde van Palouse race (tagline: "because nobody's ready in April") and crits and offers group rides.
Evergreen East: Eastern WA chapter of the Evergreen Mountain Bike Alliance. Building trails and riding them!
Riverside Alley Rats: On Facebook; the Web site of the same name points to a group in California. The FB page is pretty quiet but if you like what they're posting, become a fan and see what happens.
The rest of the bike-racing teams/clubs: We know Spokane has more — drop a link in the comments and we'll update this list.
More to Come!
This list leaves out a lot of great rides, destinations, and activities you can get to by bike in the Lilac City. We didn't talk about:
The list goes on and on; we're already almost done with our second 10 Fun Things in Spokane by Bike post just with these.
Your Turn