License Plates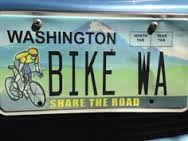 Show Your Bike Pride and Make Our Streets Feel Bike-Friendly!
Washington Bikes worked for creation of the Share the Road license plate. Your purchase includes a tax-deductible donation that supports bicycle education programs and outreach by our partner organization Cascade Bicycle Club, which works statewide to improve lives through bicycling.
How to Purchase a Washington "Share the Road" License Plate
You'll need the following information to complete your application online with the Dept. of Licensing:
Current address, phone, and e-mail
Washington plate number
Vehicle identification number (last 4 digits only)
Car make and year
Already have a Share the Road license plate? Now you can personalize your plate instead of just being a number. To find out what you can put on your plate and how to get it, check out the Department of Licensing FAQ page.
Safety and Education Programs Supported by Share the Road License Plate Revenue
Your tax-deductible donation — $28 of every license plate purchase or renewal — supports bicycle safety and education programs, outreach at community events, and educational materials.
These revenues have helped to fund:
Curriculum development for statewide driver's education testing programs, used both by Department of Licensing (DOL) and Office of Public Instruction (OSPI), to ensure all new drivers are educated about how to share the road with bicyclists and pedestrians. Both bicyclist and pedestrian-related issues are addressed in the 16 test questions that make up a part of the driver's exam. Each year hundreds of thousands of applicants complete the test.
Driver's education materials used for drivers taking remedial driver training due to a traffic infraction.
Creation and distribution of educational DVDs, a slideshow, and brochures with practical tips and reminders of state law for bicyclists, pedestrians, motorists, and those on shared-use trails.
Safety and education instruction at schools, businesses and communities around the state.
A pocket guide to Washington bike laws — thousands have been distributed through bike shops, events, and clubs and through workplaces and schools. (Want one? Email info@WAbikes.org to request.)
LEARN MORE about the history of the Share the Road license plate and how it came to be….