Starting today it's time for another fun, informal bike challenge from the creator of coffeeneuring, a bike blogger in the other Washington. March 5-16 it's errandonnee! Fittingly, it wraps up on the first day of the Washington Bike Summit so if you're attending and bringing your bike, your last errand could be a mobile tour of Olympia bike infrastructure.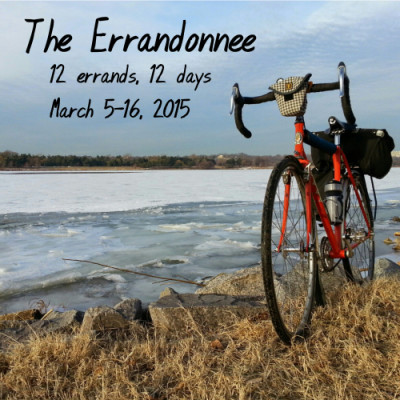 Mash-up "errand" + "randonnee" and you have the word. Follow the rules and you have a win for winter bicycling.
The Errandonnee Bike Challenge: Complete 12 errands in 12 days and ride a total of 30 miles by bike between March 5-16, 2015.
She likes her rules, does our challenge creator, so here's the deal.
Categories for Errands by Bike
Below are the 9 Errandonnee categories (or controls) in order for you to plan and map your Errandonnee accordingly:
Personal Care
Personal Business
You carried WHAT on your bike?!
Arts and Entertainment
Non-Store Errand
Social Call (restaurants, coffee, other social activities)
Work or Volunteering
Store of any type
Wild Card
As we did with the coffeeneuring challenge, we'll reward you with some "I Arrived by Bike" cards to leave behind on your errands.
Sign up for our e-news below and we'll send you 7 "I arrived by bike" business cards you can leave at those coffee shops, stores, hairdressers, and dentist offices. (Supply limited so sign up now at the bottom of this post.)
[Tweet "I'm riding to #errandonnee & you should too."]
The other side of the card features a short message about the economic benefits of biking customers. For example, "10 bicycling customers can fit into 1 car parking spot."
If you don't want to wait for the mail and you're in the Seattle area, stop by our Pioneer Square bike gift shop/offices at 314 1st Ave. South, sign up for our e-news, and we'll give them to you on the spot.
Errandonnee Rules for Your Errands by Bike
The rules, repeated here from Chasing Mailboxes for your convenience and with a couple of notes for our Washington twist:
Complete 12 errands from Thursday, March 5 through Monday, March 16, 2015.
Complete the Errandonnee Control Card as you go (created by @americancyclo). You can save a copy of this control card for your use or make your own.
There is no minimum length for each errand, but you must complete at least 30 total miles of bike riding over 12 days to successfully qualify for the Errandonnee. That's an average of 2.5 miles per errand.
Complete all 12 errands by the end of Monday, March 16. You can ride all 12 errands in one day, do one errand per day, or any other combination that works for you.
You must complete errands from at least 7 of the 9 categories represented on the Errandonnee Control Card.
Each category may be used a maximum of two times. For example, you may count a ride to work a total of two times.
The Wild Card errand is for any trip you make that does not fall into any of the categories listed on the control card.
If you carry a baked good for the "You carried WHAT on your bike?!" please provide a before and after photo.
Please provide a short description of your Errandonnee bike (or bikes!).
To evidence your errand, take one photo during your outing and submit at least one thing you learned or observed during your trip. Photos may be provided in the following ways:

If you have a blog, you can post them there and send Mary the links.
You may also use a site like flickr or Picasa and link her to your photos.
You can send her the links to your Errandonnee tweets.
Finally, she will accept 12 photos via email if that works best for you.
WA Bikes note: Don't wait until the end to share with us. Tag with #WAbikes #errandonnee on Instagram or Twitter, share on our Facebook page, send us a link to your blog post.

There are no geographic limitations on the Errandonnee. OK, one limitation. Earth. All participants must be from somewhere on Earth.
If the Errandonnee stresses you out or offends you or makes you feel bad or sad or competitive, you should stop. This is supposed to be fun and if you are not having fun then please do not continue because that is not what the Errandonnee is all about. That's what family is for (KIDDING!).
Deadline for Errandonnee submissions is midnight or so in your area, March 24, 2015.
Submit all Errandonnee paperwork including your Errandonnee Control Card to Mary at gersemalina "at" gmail.com. Send all qualifying rides together. That is, send all 12 in one go, NOT ride 1, ride 2, etc.

WA Bikes note: Send a copy our way too and don't wait until the end to send pictures and posts to us. Write a post  at any memorable point and we'll share some posts along the way to inspire others the way we did for coffeeneuring. If you create a route that takes you to errand destinations along with some beautiful or interesting side trips we'd love to have a map; you've put together a nice route someone else might enjoy.

 

Everyone who successfully completes the Errandonnee is eligible for a prize. The premium will cost $4, which covers Mary's costs. To purchase your prize, you may PayPal her at the gmail address above, or send your money by snail mail like grandma used to do (email her for her address). If you are an international entry, your premium will cost you $5 via PayPal. Please include a snail mail address in your submission so that she may send your Errandonnee swag to you.

WA Bikes note: Everyone who submits a blog post, Instagram picture, tweet, or Facebook post to us will be entered into our prize drawing to win one of several WA Bikes coffee mugs or a wild card prize.
[Tweet "#errandonnee=great excuse for a bike ride. Join us."]
Errandonnee on Social Media
Spelling tip: "errandonnee" has three double letters.
Twitter hashtag: #errandonnee

Blogging: Mary will do periodic roundups of blog posts about errandonnee at 

Chasing Mailboxes

. We'll do that for Washington bike blogs here so send us your link via 

email

, 

Twitter

, or a comment here.

Instagram: Tag your photos #WAbikes #errandonnee and they'll show up on our Instagram page
YouTube: If you really get into this and make a video of your expeditions, let us know and we'll favorite it on our YouTube channel
Bicycle Errand Destinations, Get Involved!
If you own a great destination for the errandonnee crowd and want to invite biking customers to your front door, sign up on the form below and tell us why you're a great place to ride to (bike parking? on a trail or bike lane?), along with any special offer you want us to highlight. We'll include you in our social media and e-mails to people who sign up for the challenge so they can go hunt down your two-wheel deal.
Related Reading
Sign Up to Get Awesome "Bikes Mean Business" Cards
(You can also request our pocket guide to Washington state bike laws, a bike commuting tips brochure, and one for drivers to share with a friend.)