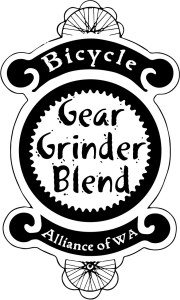 We know how you start your day: Looking forward to that first jolt of caffeine in the system to help get you rolling. Let us make it even easier for you by having the coffee delivered straight to your door!
Our friends at Roast House Coffee in Spokane have cooked up Gear Grinder Blend to benefit the Bicycle Alliance. Organic, farm-to-cup fair-trade coffee in compostable bags and it benefits bicycle advocacy? Doesn't get much better than that!
Roast House owner Deb Di Bernardo has long supported bike events in Spokane with donated coffee, from the Bike to Work Kickoff Breakfast put on by Spokane Bikes to races and rides like the great fall family ride Spokefest. As their site says, they're "Spokane's small, local, artisanal, goody-two-shoes roasting company." Further evidence: Deb delivers coffee by bike to many of the Spokane coffee shops that serve her roast.
Available in dark French roast, medium roast, and medium roast decaf for those late-night cups to accompany your dessert, this is a smooth, delicious coffee. You can order it online; the price includes all sales tax and shipping and these bags are a full 16 ounces–an actual pound of coffee instead of the 12-ounce bags so common on the shelves these days. Your purchase benefits the Bicycle Alliance and supports a business dedicated to biking and sustainability.
Gear Grinder Medium Roast: Deb says this is her personal favorite for French press every morning, and that "In blind taste tests this blend kicked the pants of the Italian imports."
Ethically sourced Mexican and Nicaraguan coffees combine to create a blend that showcases flavors of delicate chocolate and dry cocoa with mild acidity and a silky body. While it reminds some people of pudding, the blend turns sweet and tangy when prepared as espresso.
Dark Roast: This three-bean blend of sustainably grown and ethically sourced Mexican, Brazilian and Papua New Guinea is roasted to a deep, dark mahogany, revealing a pungent, bittersweet, smoky aroma. A splash of cream is the perfect finish for this intense brew, which is recommended for espresso, drip, French press and pour-over preparations.
Medium Roast Decaf: Ethically sourced, certified organic coffees from the most reputable cooperatives in Latin America, Indonesia and Ethiopia, roasted to bring out the depth of flavor that's only possible in decafs processed in the chemical-free Swiss Water Process. It's a deeply satisfying brew that's 99.9% light on caffeine but heavy on flavor.
Fueled by caffeine!
Note: If you're in the Seattle area, you can check with the office (Elliott at 206-224-9252 ext. 300) to see if we have some bags on hand to save on shipping. That's not front-door convenience like the home shipping option but we welcome visitors!