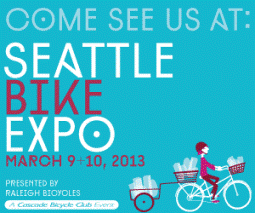 If you're a bicyclist in the Seattle region or connected to the area cycling community, you'd be hard pressed not to know that this weekend is Bike Expo.
Bike Expo is the largest consumer bike show in the country. Organized by Cascade Bicycle Club, this event features over 250 industry-related booths. You'll find bicycle and gear manufacturers, bike shops, ride/event organizers, health and fitness pros, bicycle nonprofits – all under one roof. And yes, you'll find us there as well!
But wait, there is more. There will be a bicycle photo exhibit, interactive areas, and lots of interesting programs. You might want to check out the popular Traffic Stoppers fashion show presented by Hub & Bespoke. The show features modeling talent from local active transportation organizations, including the Bicycle Alliance's own Barb Chamberlain and Seth Schromen-Wawrin!
Look for the Bicycle Alliance booth on the main floor. Drop by to say hi, pick up some bike maps, join or renew your membership (we're offering a Bike Expo special), and sign up for a free drawing for a RAPSody – Ride Around Puget Sound registration.
Visit Cascade's Bike Expo page for the complete lowdown on this event.