Team Captain Toolkit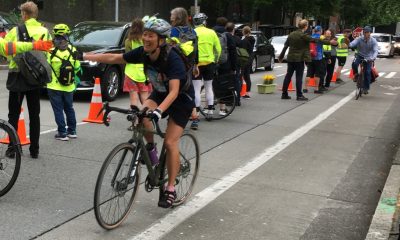 Are you a team captain this year? To help you put together a winning strategy for the Washington Bikes Bike Everywhere Challenge, we've assembled a simple toolkit including a sample timeline and inspirational ideas.
Suggested to-do list:
Sample timeline
This sample timeline will help you organize and inspire your team. You can find the full schedule of Bike Month events here.
Before May
Encourage your business to promote Bike Month using Cascade's workplace toolkit.
Register for the Bike Everywhere Breakfast.
Register for the Bike Month Challenge starting April 1.
Recruit new captains and recruit teammates using the email templates below.
Plan a few fun activities for Bike Month at your workplace or in your community. See our DIY event toolkit for simple, fun ideas!
May
Ride your bike to work, school, the grocery store, or wherever your day takes you!
Challenge another individual or team on the Bike Month Challenge website.
Join us for our Seattle Captains Bash in early May…. time and location TBD!
Check in with infrequent riders. What's holding them back from riding more?
Find a celebration station on your route and ride with a friend on F5 Bike Everywhere Day on Friday, May 17.
Stage a special event at your workplace. Find simple fun event ideas here.
June
Reward and recognize your teammates for a job well done in the Washington Bikes Bike Everywhere Challenge. Host a fun awards ceremony for your teammates, and ask Cascade for a participation certificate.
Keep riding around town! Challenge yourself and sign up for one of Cascade's great summer riding events or join a free group ride any day of the year.
Join us in our mission to Improve lives through bicycling!
Inspiration ideas
There are innumerable ways that you can build momentum for biking to work, among your team, your workplace and your community. Below are our favorite suggestions gleaned from outstanding team captains of yore:
Inspire your team
Ask team members to set goals for themselves and set a goal for your team.
Submit your team photo to challenge@wabikes.org or share on social media using @wabikes & #WABikeEverywhere.
Host ride theme days (e.g. Lycra, business suits, super hero, etc).
Have a team feed: breakfast, lunch, or happy hour!
Make sure new commuters have someone to ride with most days, but especially at the beginning of the month.
Make sure to ride with each of your team members!
Highs and Lows: ask your team to share their riding highs and lows of the day/week/month.
Challenge another team at your company or in your neighborhood.
Inspire others
Recruit and mentor new team captains.
Ask your business to promote the Washington Bikes Bike Month Challenge.
Get your CEO or local celebrity to participate.
Get your kids involved with Bike to School Month activities.
Recruit new captains and encourage business support
Feel free to use the following templates to promote the Bike Month Challenge via email, online or newsletters.
Dear ________,

Bike Month is coming up and I am captaining a team for the Washington Bikes Bike Everywhere Challenge. The theme this year is "Bike Everywhere," and I'd like to encourage you to join the all-star cast of team captains.

As a team captain, you can significantly increase bicycle commuting at _________ (their worksite). Captains recruited over 2,400 brand new bike commuters last year. Think about how valuable bicycling is to you, and multiply that by 2,400…that's a lot of positive return for a modest investment of time on your behalf!

To start a team, you simply sign up online, recruit three to nine more coworkers to join you and encourage everyone to ride as much as possible throughout May. In fact, the hardest part may be coming up with a team name. (My team is ________________________.)

Washington Bikes offers great support for captains, including a free T-shirt, free stuff to give your team, the legendary Captains Bash at the Cascade Headquarters on May 10th with free beverages for you and a guest, a comprehensive online toolkit, and prizes just for captains.

The challenge starts Sunday, May 1 – start your team today!

Captain ________(your name)

________(team name)

________(business name)

Dear __________ (title)

I would like to encourage ___________________(business) to participate in the Washington Bikes Bike Everywhere Challenge. Bicycle commuting makes great business sense. Bike commuters are healthier and more productive employees. Bicycle parking is a fraction of the cost and space of car parking. Bike commuting is especially valuable to me as an employee because _____________________.

The Washington Bikes Bike Everywhere Challenge is a simple turn-key program that has significantly increased bicycle commuting among both new and experienced riders. Last year, 22 percent of participants were brand new commuters. That's an impressive result.

What's more, it's very simple for businesses to participate. Team captains like me recruit and encourage riders. The riders track their own trips online.

At the very least, I'd like to ask you to promote the Washington Bikes Bike Everywhere Challenge to all staff. Please check out the Bike Month website for information and resources.

Captain ________(your name)

________(team name)

________(business name)

________ Department