Bicycle Laws & Safety–Revised Code of Washington State
Download and print a digital copy of the 2021 Pocket Law Guide by clicking this link. Pick up a printed copy from the Washington Bikes office in Seattle. We also partner with Bike Clubs and Groups to share the Pocket Guide at in person gatherings and events. If you are a representative of such a club and would like a bulk order, please email info@wabikes.org.
We are unable to provide mailed individual copies at this time.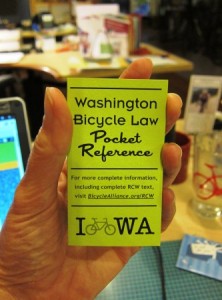 | RCW | Code Description | Link |
| --- | --- | --- |
| 46.04.071 | A Bicycle is defined as a human powered device with 2 wheels bigger than 16 inches. | full text of 46.04.071 |
| 46.61.050 | Bicycles must obey traffic lights and stop signs (as well as all other traffic control devices) | full text of 46.61.050 |
| 46.61.110 | Vehicles passing bicycles shall allow at least 3 feet of distance | full text of 46.61.110 |
| 46.61.126 | Bicycles & Pedestrians must follow traffic laws | full text of 46.61.126 |
| 46.61.160 | Bicycles cannot ride on some limited access highways | full text of 46.61.160 |
| 46.61.190 | The Safety Stop allows cyclists to treat stop signs as yields if there is no oncoming traffic | full text of 46.61.190 |
| bikes forbidden: | SR 520, I-405, I-90 (exit 0 to exit 17), I-5 (Lakewood to Marysville), parts of 18, 518, 522 & 599 and a few others. | all closed routes in WA |
| 46.61.261 | A bicycle must yield to a pedestrian on a sidewalk or crosswalk. | full text of 46.61.261 |
| 46.61.700 | Parents are responsible for kids obeying bike laws | full text of 46.61.700 |
| 46.61.710 | Mopeds and gas powered bikes & scooters are not allowed on sidewalks or trails. | full text of 46.61.710 |
| 46.04.169 | Electric-assist bicycles permissible with no more than 1,000 watts of power and maximum speed of 20mph with or without assist. | full text of 46.04.169 |
| 46.61.710 | Electric-assist bicycles allowed on sidewalks and trails but maybe locally forbidden. | full text of 46.61.710 |
| 46.61.723 | Fully electric powered bikes are not allowed on sidewalks or trails. | full text of 46.61.723 |
| 46.61.750 | Bicyclists riding on roads must obey all traffic laws. | full text of 46.61.750 |
| 46.61.750 | Bicyclists may be ticketed for violating traffic laws | full text of 46.61.750 |
| 46.61.750 | Traffic laws apply on bicycle trails too. | full text of 46.61.750 |
| 46.61.755 | Bicycles have all the same RIGHTS and RESPONSIBILITIES as cars. | full text of 46.61.755 |
| 46.61.755 | A bicycle is a vehicle on the road or a pedestrian on the sidewalk | full text of 46.61.755 |
| 46.61.758 | Must signal turns with left hand (right=up, left=out, stop=down). But Right hand signal for right turn is an acceptable substitute. | full text of 46.61.758 |
| 46.61.760 | Only one person per bicycle seat. | full text of 46.61.760 |
| 46.61.765 | Clinging to vehicles is illegal | full text of 46.61.765 |
| 46.61.770 | Ride as far to the right as is safe and practical except when turning or passing. | full text of 46.61.770 |
| 46.61.770 | Bicycles are not required to use a bike lane or shoulder. | full text of 46.61.770 |
| 46.61.770 | Bicycles can and should use turn lanes | full text of 46.61.770 |
| 46.61.770 | Bicycles can ride on the left (with the traffic flow) on one way streets. | full text of 46.61.770 |
| 46.61.770 | Can ride 2 abreast, not more. | full text of 46.61.770 |
| 46.61.770 | Can legally take the lane if necessary. | full text of 46.61.770 |
| 46.61.775 | Must have at least one hand on the handlebars at all times | full text of 46.61.775 |
| 46.61.775 | Cannot ride carrying anything with both hands while riding. | full text of 46.61.775 |
| 46.61.780 | Bikes must have brakes | full text of 46.61.780 |
| 46.61.780 | At night, bikes must have white light on front, red reflector on the back. | full text of 46.61.780 |
| 46.61.780 | Steady or flashing red rear light may be used in addition to the reflector. | full text of 46.61.780 |
| 46.61.790 | Legal to bicycle drunk, but police may impound bicycle if you are too drunk. | full text of 46.61.790 |
| 47.36.025 | New and updated traffic signals must detect bicycles. | full text of 46.36.025 |
Some state laws for cars which are useful for bicyclists to know: