Ride in the Rain FAQs
GETTING STARTED
How do I register for the challenge?
Registration opens on October 1. Register on the LoveToRide platform here.
TEAMS
How do I create a team?
First, you need to fully register as an individual and join the Ride in the Rain Challenge. Be sure to read through the checkboxes and opt-in to receiving prizes and emails! Without those checkboxes, we can't send you emails with updates on leaders, prizes, events, and other fun news. 
Then, you have the option to join or create a team, or ride solo. It's as easy as the click of a button!

How do I start my own team?

Once you select "start a team", you will be presented with a form to create your team name, description, region, and category, with an option for a workplace team.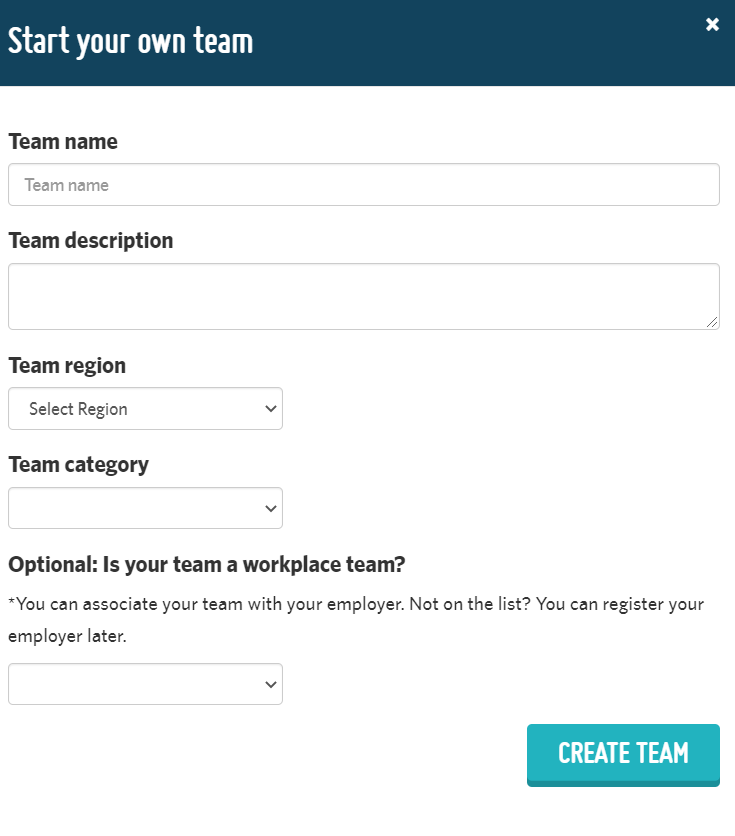 Do I have to recreate a team this year, or can I just have the team I had last year?
You'll need to recreate your team from scratch. The system is set up this way to encourage previous year's team members to branch out, form their own teams, and grow the challenge.
How do I invite people to join my team?
Once you have finished entering details about your team and clicked "create team" you can go to your profile, click on the team name, and you will see a number of "Invite Someone!" links. Clicking those links will take you to a pop-up that allows you to invite your teammates over email or through Facebook. 
How do I join an existing team?
First, you need to fully register as an individual. Once you are registered, the easiest way to join a team is to search for that team's name. 
What is an allowed team size for the Challenge?
Any size from 1 – 10!
Can an individual be a part of two or more teams?
Each user can only be on one team. If you wanted to work around this and be on two teams, you could technically create two Challenge accounts. Then you'd have to log trips twice on both accounts, so it might a bit of a hassle.
How do I delete a team?
From the team profile, click on edit team and there will be a red button at the bottom that says "delete team". This allows users (including yourself) to join or form other teams. 
POINTS
You and your team earn points as follows: Users get points for number of miles ridden, number of days ridden, and number of riders encouraged. New rider* encouragement equals extra points because the goal is to get more people biking!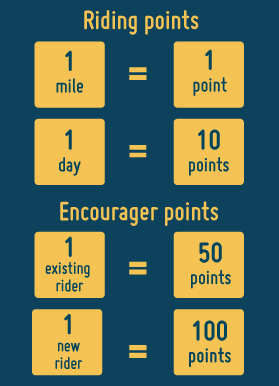 *New riders are those of us who haven't ridden or only ridden a few times in the past year
INDIVIDUAL POINTS
You earn points by riding and encouraging** others to ride as per above.
The more points you earn… the bigger the bragging rights!
TEAM POINTS
Your team earns points for all the people you get to join your team and all the riding you all do. That means you get a team total of everyone's day, distance, and encourager points**. It's that simple – just tally everyone's riding and encouraging together to see who is on top!
**How I do earn encourager points? It's easy! When someone logs a ride in the Challenge via the website, a little box will open that asks if someone encouraged them to ride. If they type in your name and select you from the list, you get points for encouraging them to ride! This box will open the first 3 trips you log 'manually' via the website, or it can be triggered for your next ride at any time via the 'add an encourager' button on your profile page.
WHAT ARE THE BENEFITS OF PARTICIPATING?
Free for everyone

Loads of pedal powered camaraderie

The spirit of friendly competition

Help reduce congestion, emissions, and save people money

 Bragging rights. Period.
LOGGING RIDES
Logging a ride is easy. You can either connect your Strava or MapMyRide*** to the Love to Ride platform, or you can log your rides manually. Just select the purpose of the ride:
transport to or from work
transport to or form other destination
transport to or from meeting
fun or fitness
ride with kids 
indoor ride
Once you have selected the purpose, enter the miles ridden and the date, and click log my ride.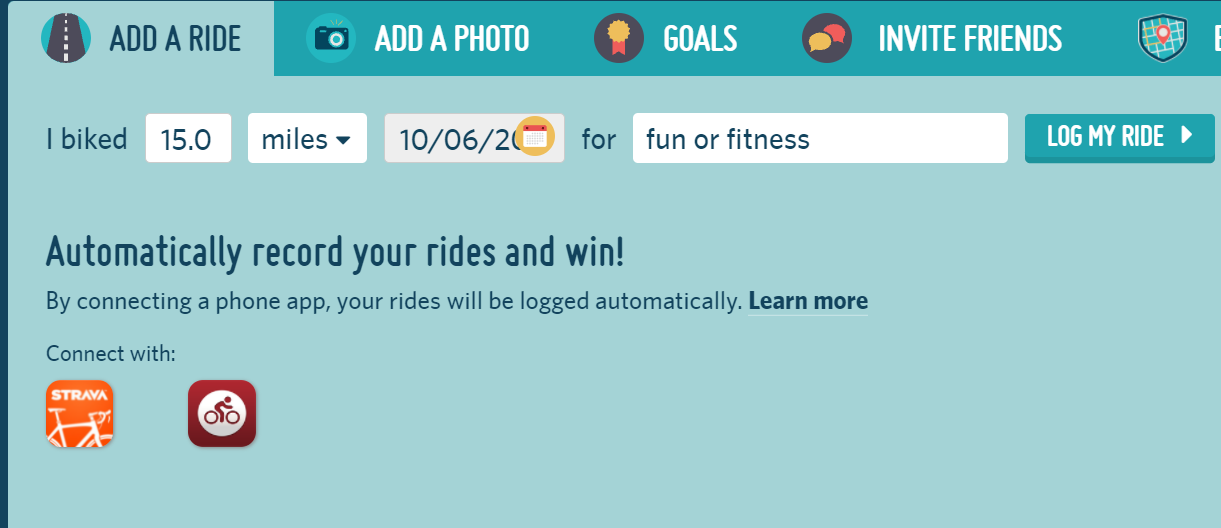 ***If you are having trouble connecting your Strava or MapMyRide account, please see the Love to Ride FAQs here.
MISC.
This is a free event but donations are welcome.
Anyone can participate for free, and any donations go to support Washington Bikes efforts across our great state. The Love to Ride platform costs us funds to make available to you, and we want to keep this program going to encourage riders across the state to bike all year long!
How can I see my stats from last year?
If you participated in the 2019 Ride in the Rain Challenge, you can view your past stats by going to your profile on Lovetoride.net/washington.  From there you can see your individual, team, league, and organizations stats from years past. Because we are no longer using the Rideshark platform, your 2020 stats are not available.
Have any more questions or issues? Visit lovetoride.net/info or get in touch with us at info@wabikes.org.