Safe Routes to School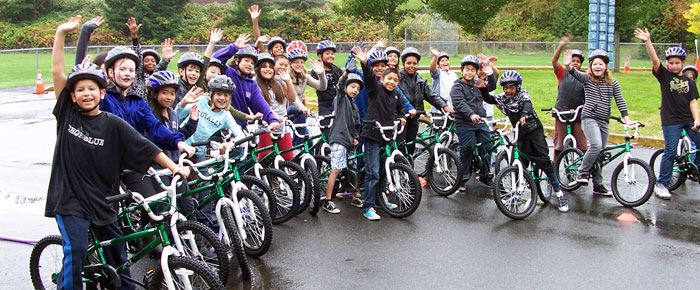 Youth around the state are discovering the joy and freedom of riding a bike. Safe Routes to School works to provide youth with the opportunity to ride–be it to school, the sports field, a friend's house, the library, or the dentist. We educate youth and parents about safe riding skills, encourage schools and communities to support riding, and help communities make the streets, trails, and sidewalks safe for bike riders of all ages. Stay up to date on Safe Routes to School activities by following our blog.
It is important for anyone riding a bike to understand traffic rules and know how to move safely. We work with over 40 school districts around the state to incorporate a bike and pedestrian safety education program into their 4th through 8th grade PE classes. It's drivers education for bikes! Information and resources on this program can be found on our Safety Education page.
Bring the bike and pedestrian safety education program to your schools! Eligible school districts are encouraged to apply to OSPI now. Application deadline is January 21, 2016. Learn more.
In supporting the Safe Routes to School movement in Washington State, Washington Bikes and Feet First maintain the Center for Safe Routes to School in Washington State. This is a clearinghouse of Safe Routes to School information and a tool to connect communities across the state.
Thank you to all the schools and students who participated in the 5th Grade National Poster Contest in 2014. Look here to see the winners for Washington State!
Help organize Bike to School Month events for your school during the month of May. And be sure to celebrate the next Bike to School Day on May 6th, 2015!
To foster the sharing of best practices, we host the Safe Routes to School Summer Institutes. These events are for parents, teachers, planners–anyone interested in Safe Routes to School–to learn from each other, take training on particular skills,  and connect with our movement.
Contact Us
Interested in having Safe Routes to School curriculum taught in your child's school? Your PTA or a local fundraising effort can pay for the curriculum delivery and buy bikes for ongoing bike education that will get young riders rolling year after year.  Contact Seth Schromen-Wawrin, Program Manager, Seth@WABikes.org to learn how.