The Bike Everywhere Challenge
Welcome to the 2021 Bike Everywhere Month Challenge!
About the Challenge 
Challenge yourself and others to ride as much as possible each year from May 1 to 31, 2021 in this fun and free trip-tracking contest. To participate, you need only to start or join a team, ride for at least 10 minutes, and track your trips online. It's simple and fun!
You can ride solo or form a team of coworkers, friends, or neighbors, and log your trips on the user-friendly Bike Everywhere Challenge website. Invite a friend to join your team and help a newbie get started biking. You could be the one who makes them fall in love with two-wheeled transportation.
Why participate in the Challenge?
If biking is new to you, this is a great program to get you started. The workplace and community-based teams of up to ten people are a great source of information and inspiration to keep you riding throughout the month. For seasoned riders, it's all about the challenge and camaraderie with fellow riders. Challenge yourself to recruit new riders, challenge your workmates and friends to ride more, and challenge peer organizations to out-ride you this spring.
The Bike Everywhere Challenge offers some great features:
Tracking bike trips online is easy, inspiring and fun!
Simple registration process and trip-logging tool
Compete bragging rights and recognition on leader boards
New for 2020!
Washington Bikes will be partnering with challenge platform RideShark for the 2020 Bike Everywhere Challenge. RideShark is perfectly aligned with Washington Bikes' mission to get more people on bikes, with an emphasis on providing the resources needed to overcome barriers to multi-modal transportation.
Through the combined experience of the Washington Bikes and RideShark teams, we are improving the Bike Everywhere Challenge platform to better accommodate the spirit of fun competition that keeps bringing people back year after year.
Some new challenge features include a new point system aimed at encouraging new riders, new features for corporate teams, and expanded abilities to sync with apps. Plus, in line with efforts to get more people riding, teams are encouraged (but not required) to invite new riders.

We have been working closely with RideShark to facilitate the ease with which our participants switch to the new platform. We are confident that RideShark's extensive relationships with trip logging apps like Strava will make it easy for participants to record trips.
With our new partnership, we are better equipped to include participants from across our state and show that no one celebrates Bike Everywhere Month like Washington.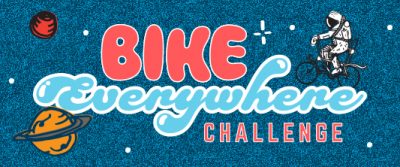 Challenge Details
Frequently Asked Questions