Today's guest post is written by Robert Beiser, executive director of Seattle Against Slavery.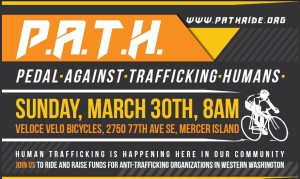 Join us on Sunday March 30, 2014 to ride your bicycle and help raise funds and awareness for anti-trafficking organizations in Western Washington. The Pedal Against Trafficking Humans (PATH) Ride is a joint effort between Seattle Against Slavery, Veloce Velo Bicycles, and is supported by The WAVE Foundation.
Human trafficking is a modern-day form of slavery in which people use coercion, deception, and force to exploit others through labor and prostitution. The PATH Ride is a part of a local movement to prevent trafficking, help victims, and support survivors. Proceeds from the ride will go to fight human trafficking right here in King County.
There are two courses on the ride: a 13-mile course around Mercer Island, and a 28-mile course that adds a trek across I-90 and a loop of Seward Park. The PATH Ride will be a fun, non-competitive event and a chance to start off your riding season for a cause.
Sign up today to ride, volunteer, or fundraise at www.pathride.org. And make a difference for local victims of human trafficking!
This ride supports statewide bicycle advocacy and education efforts with a contribution to Washington Bikes.