Share the Road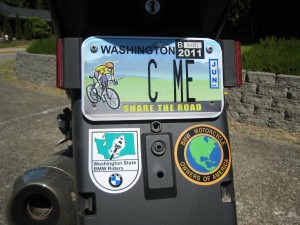 Show Your Bike Pride with Help from Our Concierge Service!
Buy a "Share The Road" License Plate, Get a Free One-Year Membership
Your Share the Road specialty license plate supports safety education statewide to help people cooperate in safe interactions as they bike, drive, and walk
When you purchase a Share the Road license plate, $28 of the initial and annual renewal fee supports important bicycle education programs, including Safe Routes to School
Your purchase enables Washington Bikes to produce and distribute educational materials online and at various events, and to update and distribute bicycle safety curriculum to driver education programs throughout Washington State.
Your car, motorcycle, or trailer becomes a mini moving billboard to remind everyone around you to look out for others on the streets so we all arrive safely at our destinations.
Some might see irony in the license plate, but where better to place a bike message than right on the street where we all can see it? And everyone on a bike feels a sense of community with the driver who's showing bike pride.
How to Purchase a Washington "Share the Road" License Plate
1. Tell us you want to get your Share the Road plate! You can e-mail jack@wabikes.org or call 206-224-9252, ext. 308 Mon-Fri from 9-5 pm.
2. We need the following information to complete your application (You can e-mail us a picture of your vehicle registration, which contains everything we need, or if you'd prefer to do-it-yourself, you can go here before contacting us):
a)  Current address, phone, and e-mail
b) Washington plate number
c) Vehicle identification number (last 4 digits only)
d) Car make and year
3. We'll send you the completed application for you to sign. Select method of payment: 1) check made out to DOL.  Cost is $72.75 for cars/trucks, $54.75 for motorcycles, and $60.75 for trailers, OR 2) if it's more convenient to use a credit card, there will be an additional $2 processing fee (cost will show as a charge to Washington Bikes if you use a credit card).
4. You send us the signed application and payment to DOL if you use a check.
5. You'll get a temporary plate first from our licensing partner, then your new permanent Share the Road plates arrive via U.S. mail in 2-3 weeks.
Additional Benefits of "Share the Road" license plate purchase
Complimentary Membership: With your purchase of a Share the Road license plate, you'll receive a complimentary individual membership. We'll need you to let us know your Share the Road license plate number.
Tax Deduction: Email info@wabikes.org with your name, address, and license plate number, and we'll send you a receipt for your tax-deductible donation.
Personalize your Share the Road Plate
Already have a Share the Road license plate? Now you can personalize your plate instead of just being a number. To find out what you can put on your plate and how to get it, check out the Department of Licensing FAQ page.
FAQs
Still have questions? Check out the Frequently Asked Questions or contact Washington Bikes, bikeinfo@wabikes.org.
We Love Pictures!
Send us a photo of your Share the Road license plate, or tag #WAbikes if you share it via Instagram. Your plate could grace a brochure, presentation, or Web page.
Safety and Education Programs Supported by Share the Road License Plate Revenue
Your tax-deductible donation–$28 of every license plate purchase or renewal–supports a variety of our safety and education programs.
These revenues have helped to fund:
Curriculum development for statewide driver's education testing programs, used both by Department of Licensing (DOL) and Office of Public Instruction (OSPI), to ensure all new drivers are educated about how to share the road with motorists and pedestrians. Both cyclist and pedestrian-related issues are addressed in the 16 test questions that make up a part of the driver's exam. In 2011, more than 264,000 applicants completed the test.
Driver's education materials used for drivers taking remedial driver training due to a traffic infraction.
Creation and distribution of educational DVD's, a newly developed slideshow, and pamphlets and magnets detailing Rules of the Road for bicyclists, pedestrians, motorists, and shared-use trails.
Safety and education instruction offered by Washington Bikes staff at schools, businesses and communities around the state.
LEARN MORE about the history of the Share the Road license plate and how it came to be….
As of October 31, 2013, over 5,600 plates have been sold!