Share the Road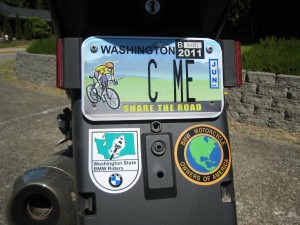 Safety and Education Programs Supported by Share the Road License Plate Revenue
Share the Road license plate revenues, $28 of every license plate purchase or renewal, support a variety of our safety and education programs.
These revenues have helped to fund:
 Curriculum development for statewide driver's education testing programs, used both by Department of Licensing (DOL) and Office of Public Instruction (OSPI), to ensure all new drivers are educated about how to share the road with motorists and pedestrians. Both cyclist and pedestrian-related issues are addressed in the 16 test questions that make up a part of the driver's exam. In 2011, more than 264,000 applicants completed the test.
Driver's education materials used for drivers taking remedial driver training due to a traffic infraction.
Creation and distribution of educational DVD's, a newly developed slideshow, and pamphlets and magnets detailing Rules of the Road for bicyclists, pedestrians, motorists, and shared-use trails.
Safety and education instruction offered by Washington Bikes staff at schools, businesses and communities around the state.