WA Bikes Ride in the Rain Challenge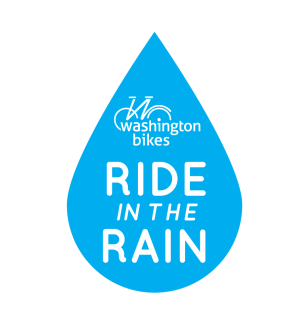 Contest dates: November 1-30, 2018
Sign up for the challenge – register with Love to Ride (registration opens October 1, 2018)
Challenge Details
About the Challenge
Washington Bikes invites pedalers of all varieties — seasoned riders and newcomers alike, all over our state — to bike as much as possible for any reason during November 1-30. The idea of the Challenge is to turn a common barrier to biking — inclement weather — on its head and celebrate biking during the rainiest month of the year. We think that if you can ride during the rainiest month and enjoy it — and we're confident you will — you'll see how possible it is to bike all year round.
How to Participate
Starting October 1, register for free and log your bike trips November 1-30.  You can ride solo or form a team of coworkers, friends or neighbors, and log your trips on the user-friendly Ride in the Rain Challenge website.
The Deets:
Anyone can participate.
You can track all your bike trips, not just commute trips. 
You can log an unlimited number of bike trips. 
Share the excitement!
Follow @WAbikes on Twitter and Instagram, and like Washington Bikes on Facebook. Then post photos that capture your  Ride in the Rain. Tag your photos with  #RideintheRain and @WAbikes.
More about 2018!
Washington Bikes is pleased to announce that we are continuing partnering with challenge platform Love to Ride to host the 2018 Ride in the Rain Challenge. Love to Ride is perfectly aligned with Washington Bikes' mission to get more people on bikes, with an emphasis on providing the resources needed to overcome barriers to cycling.
Through the combined experience of the Washington Bikes and Love To Ride teams, we are improving the Ride in the Rain Challenge platform to better accommodate the spirit of fun competition that keeps bringing people back year after year.
Some new challenge features include a new point system aimed at encouraging new riders, global prizes contributed by Love to Ride (which include awesome prizes like a trip to Croatia) and expanded abilities to sync with apps. Plus, in line with efforts to get more people riding, we are awarding new riders many extra points.  So recruit your friends!
With our new partnership, we are better equipped to include participants from across our state and show that no one celebrates Pedal Power like Washington.
Resources
Are you new to biking, or just new to year-round riding? Our friends at Cascade Bicycle Club offers classes and resources on how to get started. Check the Cascade Calendar for ongoing rides, classes, and events.  If you're an experienced rider, sign up to be a captain and recruit new riders to join your team. You could be that person who introduces someone to the simple joys (and practical benefits) of bicycling.
Contact Washington Bikes
Have a question or comment? Email Washington Bikes at  challenge@wabikes.org.
FAQs
Visit our FAQs page for answers to additional questions you may have.