WA Bikes Ride in the Rain Challenge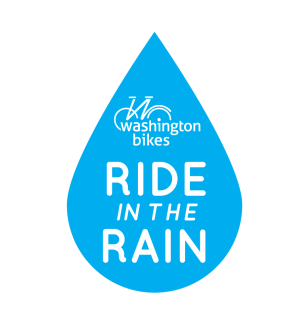 Washington Bikes invites pedalers of all varieties — seasoned riders and newcomers alike, all over our state — to bike as much as possible for any reason during November 1-30. The idea of the Challenge is to turn a common barrier to biking — inclement weather — on its head and celebrate biking during the rainiest month of the year. We think that if you can ride during the rainiest month and enjoy it — and we're confident you will — you'll see how possible it is to bike all year round.
How the Challenge Works
Log your bike trips on the Ride in the Rain trip calendar, form a team (optional), and compete against yourself and others to see who can bike the most. Visit our FAQs page for answers to additional questions you may have.
The Deets:
Anyone can participate. It doesn't matter if you are a seasoned rider, a weekend warrior, or just getting back in the saddle. Ride in the rain is open to everyone.
You can track all your bike trips, not just commute trips. Users can log any and all bike trips — to work, shopping, exercise, coffee, just for fun or all of the above.
You can log an unlimited number of bike trips. You can log as many bike trips as you'd like per day, and you can designate whether or not your trip is a commute trip to and from work. Washington Bikes tracks how many commute trips have been logged, so we encourage you to mark your trips accordingly. Note that this Challenge defines a trip as 0.25 miles or more, ridden outside (not on an indoor bike). Also, your bike must be able to be operated without a motor (e-assist bikes are ok if they are not completely motorized).
Leagues and organization affiliation. Join a league to compete with other people in your industry, your neighborhood, your office, or your department. Leagues can be organization-specific (restricted only to participants from your organization) or open to anyone. Only team captains can join or create leagues.
Trip logging grace periods. Users will have a grace period of 14 days to log their bike trips. This means you have two weeks after the trip to go back and log it for credit. The last day to log a trip in the Challenge will be Friday, Dec. 2.
What counts as a trip: A bike trip in the Ride in the Rain Challenge is defined as a ride outside greater than or equal to 0.25 miles in distance. A commute trip is defined as a trip between home and the school or work.  All other trips made during the workday or for getting around town should be designated as 'other.' Sorry, but only outdoor bike trips (no spin or indoor biking miles) count in the contest.
How to Participate
You can ride solo or form a team of friends or colleagues. Starting October 1, register for free and log your bike trips November 1-30. Remember to log your trips in a timely fashion, as you have a two-week grace period to go back and log trips before that date locks on the calendar. At the end of the month, Washington Bikes will tally high achievers in several categories and award prizes to winners. Team Captains will receive a complimentary captains gift when picking up their challenge packets during the first week of November. Riders can compete against themselves, their teammates, or any other participant in the Challenge.
How to Create a Team
To be considered a complete team and be eligible for prizes and appear on leaderboards, teams need to be between four and ten people.
JOIN THE CHALLENGE to sign up for the 2016 Ride in the Rain Challenge. Complete the challenge registration steps. Don't see your organization listed? Email  support@luum.com  to add your organization. Note: you do not need to affiliate with an organization to participate.
Join or create a team. While you can participate in the Challenge as an individual, we encourage you to be part of a team. After you have joined the challenge:
If you want to join an existing team, click on the  Find Team  link on the right-hand side of the Overview page. Here you can search for existing teams.
If you want to create your own team, click on the  Create Team  link on the right-hand side of the Overview page.
Use the Invite tab to ask your friends and colleagues to join you.
Add a personal message if you wish, then click Send! Alert these potential teammates to expect your invitation — they can use your invitation link to join your team, or they can find the team.
Volunteer to be a Team Captain
Team captains are the champions of Ride in the Rain! Throughout the month they encourage, inspire and support teammates and new riders. To show our appreciation for their leadership, Washington Bikes offers captains some sweet perks like an invitation to the Team Captain's Bash on Monday, Nov. 17, gear from SKS,  Ride in the Rain ear warmers, and literature about safe biking.
How to Join or Create a League
Leagues provide a way for teams to group themselves by a shared characteristic in order to compare against each other. Leagues can be organization-specific, i.e. organizational leagues are leagues restricted to teams within a specific organization, or leagues can be open for anyone to join. For example, there can be a league or Federal employees, a neighborhood, a group of friends, your department or office building, or your industry. Team captains can join an existing league or create a new one when they create a team.
Prizes and Awards
Washington Bikes  will recognize leaders in the following categories and will award prizes accordingly. Because thousands of Challenge riders are competing for a limited number of prizes, team captains, and league organizers are encouraged to provide their own internal reward and recognition system for their team, organization, or league.
Washington Bikes will announce winners in early December and will award prizes for our social media contests weekly. To participate in social media contests, follow @WAbikes on Twitter and Instagram, and like Washington Bikes on Facebook. Then post photos that capture your  Ride in the Rain experience to be eligible for sweet weekly prizes. Tag your photos with  #RideintheRain and @WAbikes.
Washington Bikes' prizes include: Mini Pumps and Low Profile Fenders from SKS, REI Gift Cards, waterproof Ortlieb Bags, Registration to Cascade Bicycle Club's events, and more!
Award categories: 
Individuals: Most overall trips, most commute trips, most miles, most overall trips among new riders, most commute trips among new riders, most miles among new riders.
Teams: Highest average number of overall trips per rider, highest average number of commute trips, highest average number of miles, most new riders on a team.
Organizations: Highest average number of overall trips, highest average number of commute trips, highest average number of miles, most complete teams (of four to ten people), most new riders, most riders
Resources
Are you new to biking, or just new to year-round riding? Our friends at Cascade Bicycle Club offers free classes and resources on how to get started. Check the Cascade Calendar for ongoing rides, classes, and events.  If you're an experienced rider, sign up to be a captain and recruit new riders to join your team. You could be that person who introduces someone to the simple joys (and practical benefits) of bicycling.
Contest Rules
Eligibility
The Ride in the Rain Challenge is open to anyone, anywhere in our great state. You do not need to be affiliated with an organization, and you can ride as part of a team or solo. In order to be eligible for Washington Bikes prizes, users must log a minimum of eight bike trips (four round-trips) during the month of November. To be considered a complete team or to be eligible for prizes, a team must have between 4-10 people.
Trip logging verification
We depend on the integrity of participants to honor the spirit of the contest and abide by the rules.
The  Luum General Contest Rules  also apply to this contest.
Contact Washington Bikes
Have a question or comment? Email Washington Bikes at  challenge@wabikes.org.
FAQs
Visit our FAQs page for answers to additional questions you may have.