About Us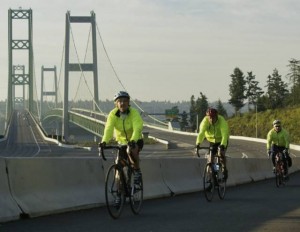 Washington Bikes advocates for bicyclists and a more bicycle-friendly Washington. 
Our supporters are the key to our success in growing bicycling statewide. With your help our accomplishments include:
Nearly $100 million in state funding for biking/walking projects in the last 10 years, from trails to school-zone safety improvements.
Around a dozen laws passed (and a few bad ones blocked!) for safety, education, and penalties for dangerous driving.
Over 56,000 kids so far and another 15-16,000 each year learn to bike safely thanks to our Bicycle and Pedestrian Safety Education program for middle-school teachers in 42 school districts and counting.
Designation of the first US Bicycle Route in the Pacific Northwest and on the West Coast, with more routes and bikeways to come.
Publication of the first book of multi-day bike tours in Washington state to come out in over a decade.
Mission
Washington Bikes works to grow bicycling statewide and to create complete and healthy streets through education, developing more inclusive communities for cycling, building a coalition of organizations, and seeking to make bicycling accessible to everyone.
Vision
By 2020, bicycling is an everyday, mainstream activity in communities across Washington. Bicycling is recognized, accommodated and funded as a legitimate and essential mode of transportation. Washington residents embrace a healthy and active lifestyle that includes safe and convenient active-transportation options. As a result, Washington communities enjoy lower health-care costs, a cleaner environment and more transportation choices. Washington is a national model for innovative bicycle-friendly transportation facilities and programs.