About Us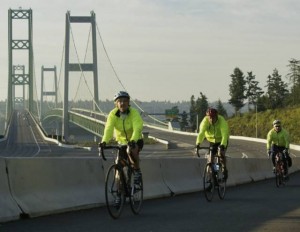 Washington Bikes advocates for bicyclists and a more bicycle-friendly Washington. We make bicycling better.
At the beginning of 2016 Washington Bikes and Cascade Bicycle Club merged. Both organizational names continue and both work statewide, with programs redistributed between Cascade Bicycle Club as a 501(c)(3) public charity and Washington Bikes as a 501(c)(4).
Washington Bikes grows bicycling all across the state of Washington every day. We advocate for bicyclists' rights, endorse political candidates, and hold officials accountable at every level of government, working with them to shape the policies that will make bicycling a safe, accessible form of transportation, travel and recreation.
Through our efforts we increase funding to build and maintain bicycle facilities; provide tools for local advocates to improve their communities; and promote the health, safety, and economic benefits of bicycling. Our work and that of our many partner organizations means more people biking all across Washington, the #1 Bicycle Friendly State in America (8 years in a row)! 
Our supporters are the key to our success in growing bicycling statewide. With your help our accomplishments include:
Contact Us
Seattle Office
7787 62nd Ave. NE
Seattle, WA 98115
Spokane Office
Empire Health Foundation
1020 W. Riverside
Spokane, WA 99201
(No full-time staff located in Spokane at this time.)
Contacts
Elizabeth Kiker, Executive Director: Elizabeth@WAbikes.org
Barb Chamberlain, Chief Strategic Officer: Barb@WAbikes.org, 509-869-2949
Blake Trask, Senior Director of Policy: Blake@WAbikes.org, 206-310-4762
Brent Tongco, Senior Director of Communications and Marketing: Brent@WAbikes.org, 303-828-7794
Mission
Washington Bikes works to grow bicycling statewide and to create complete and healthy streets through education, developing more inclusive communities for cycling, building a coalition of organizations, and seeking to make bicycling accessible to everyone.
More About Us